La Quinta Hotel is located in the beautiful surroundings of Queenstown. With Stunning views of the iconic Remarkables Mountain Range, the hotel delivers the perfect location for people to stay and explore Queenstown.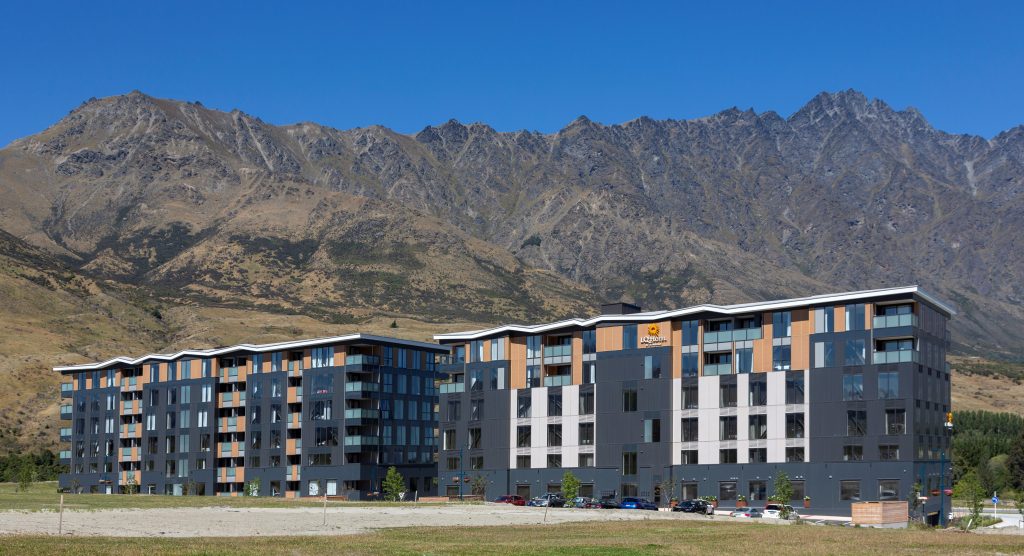 Despite the disruptions of 2020 (6 weeks of lockdown, travel restrictions and more), Safari Group completed this project in late 2020, only 17 months after it started. A truly remarkable achievement!
Spread across two buildings with a total of 18,500m², the hotel accommodates 184 units and is Safari Group's biggest development to date.
Working in partnership with Safari, Moddex designed, supplied and installed over 350m of our modular handrail and balustrade systems to the two internal access stairs and various external ramps and stairs.
Since our beginnings, Moddex has been working with Safari Group as a long-time provider and knew they could put their trust in Moddex when it came to compliant, durable handrails and balustrades.
Aesthetics and function in modular handrails
Our client required handrail and balustrade systems that matched the other design elements of the hotel exterior for an aesthetically pleasing look. Moddex supplied the handrails and balustrades in an iron sand powder coat finish. Not only did they match the aesthetic and refined look the client was after but were fully compliant, making them the perfect fit. Safari Group could have the confidence that they were investing in the highest-quality solution, with the lowest ongoing maintenance costs and a low lifetime cost of ownership. 
Speed on site with fast installation
Time is a valuable and irreplaceable asset. As they say, time is money, but time is also so much more valuable than just money. There's opportunity cost and a potential cost to your reputation too.
Thanks to our modular innovation, we're at least 50% faster on-site than any other barrier system, with a fast lead time from customisation to delivery.
The client gave us a 3-week window from being able to start the install to handing the building over to the client. With over 350m to install, timeframes were tight.
Our projects and install team worked quickly and efficiently to get the job done – even speeding up delivery by taking a truck load of product down to Queenstown ourselves! Our handrails and balustrades were delivered as a kit-set, delivered complete with all components and an easy-to-follow installation guide. Every component was numbered and corresponded to the guide. This avoided confusion and time delays on-site with our install teams.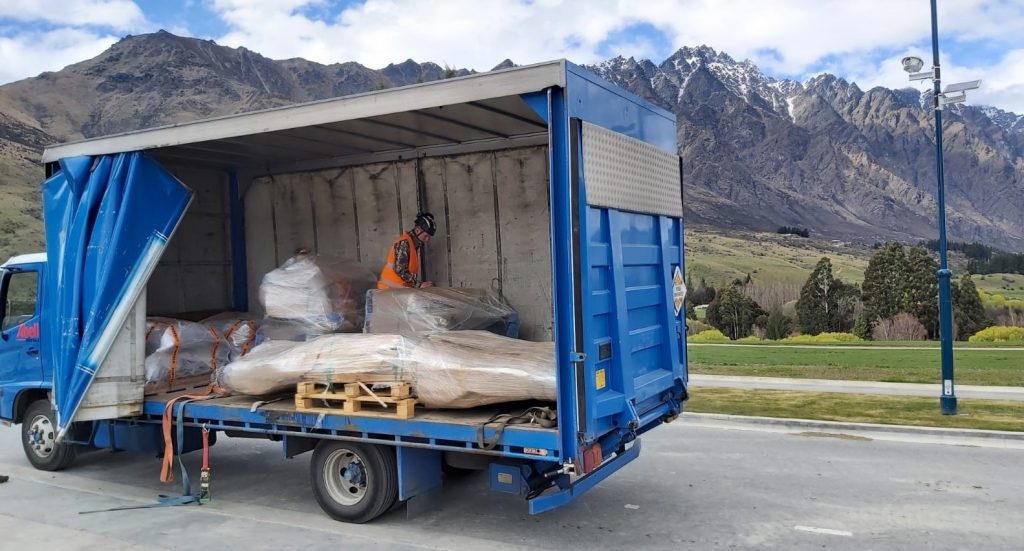 Due to the modular build of our system, no welding was required on site. This eliminated the need for hot works permits, toxic fumes, on- or off-site cutting, power supply issues, obstructive welding tools or time-delaying site shutdowns.
Thanks to our no-weld, modular system, our Moddex teams successfully customised and delivered the perfect modular solution safely, in time and on budget.
Install went great… it all went smoothly and nothing was a problem to be honest! Love the speed and ease of the install and great looking product too.

Cory Caffrey, Safari Group
Moddex products are fully compliant
Our engineer was able to conduct a detailed evaluation and produce a supply a site-specific PS1 for architect and council sign off. Because the handrail was being fixed into timber, we had to ensure the fixings were up to specification for PS1 loading requirements. Our client could be rest assured that our handrails and balustrades were fully compliant with New Zealand Standards.
Partner with Moddex
When your project demands aesthetic, compliant and easy to install handrail and balustrade systems, look no further than Moddex.