The Moddex Origin Story: "WHY? A better way".
On reflection, childhood memories of the path we've trod make it clear that the origins of the Moddex business go back as far as two failed business attempts by my parents in the early 1980s.
These failures ignited a third, successful, attempt to found a family business in specialist mandrel bending. This time it was based on customer insights gained during the second, failed attempt.
More recent lines of thought, that I believe warrant deep consideration, are the willingness to 'fail fast', or even to 'celebrate failure'. Looking back, I credit the ability and willingness to move through failures positively — unashamedly seeking 'a better way' — to good role modelling in this type of behaviour from early in my life.
Giving up wasn't an option and that was inspirational!
When we started selling the clamps that connect our handrail systems today, it was in response to a ramping up of pressure on Aussie manufacturing through low-cost imports. Bunk-bed frames, toilet roll holders, easy walker frames, Nissan nudge bars, Greenfield mower handles and Cox ride-on mower exhausts all fell off our bandwagon quite rapidly. This left the once healthy family business now struggling for survival.
Persistence is the champion of opportunity.
We saw an opportunity to introduce a new product to the Australian market. It came from a UK-based distributorship and, interestingly, the product we decided to introduce — the cast clamp — was old news in the UK. It is, in fact, over a century old there today.
Starting any new venture with little context or knowledge takes courage and a steely resilience to bounce back from the ropes to go the full twelve rounds.
We showed clamps to fabricators who were interested, but saw it as a threat to traditional fabrication: "No go".
We showed clamps to architects who want everything to look beautiful — the connector wasn't: "Nothing for us here".
We showed clamps to builders, who typically worked with fabricators and had no inclination to change: "No go here either, it seemed".
Finally, we made a breakthrough when an open-minded builder said, "I've no interest in your clamps mate, but if you can run some handrails for me, I'll take a quote."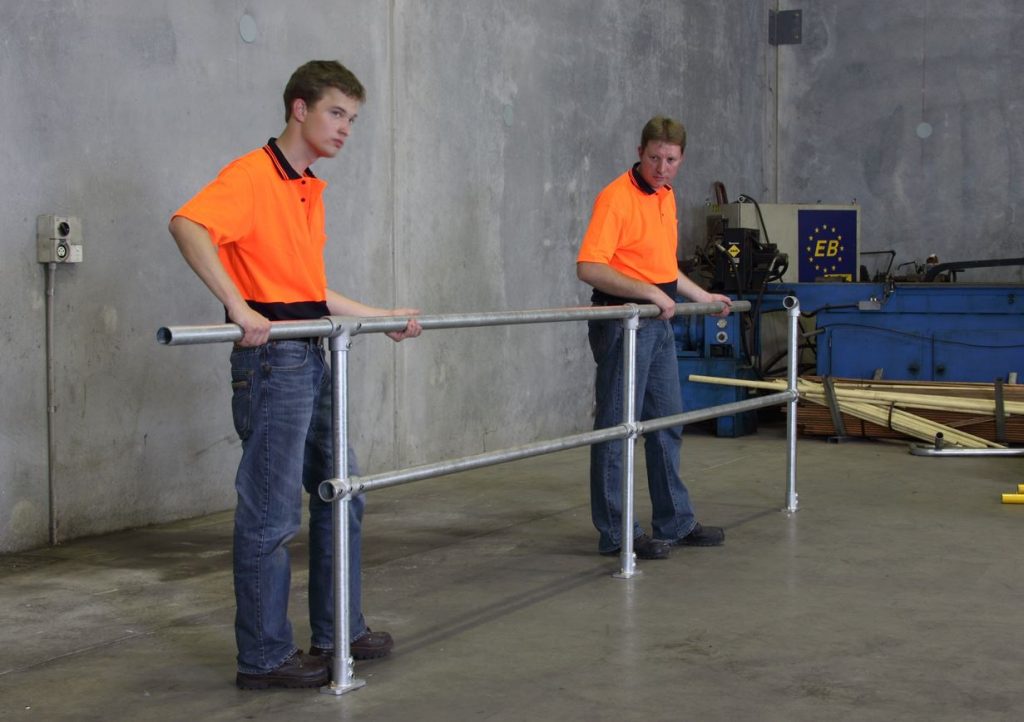 "BINGO!" With a background in metal bending and fabrication, I knew we could do it and the first job, at $20k, was soon in the bag. With this delivered successfully, the realisation grew that could we make a go of this concept at scale. The potential rewards would be greater than what could be achieved selling basic clamp connections.
So, now we had a concept with some potential. Staring down the challenges this path presented became an intense focus, with a limited knowledge of compliance to building codes, Australian Standards and engineering requirements. It also became my daily grind.
Two years in, we'd built a small, stand-alone business, with some basic IP and what seemed a huge opportunity beckoning. Along with this, the realisation dawned that our runway to success was longer than we had time for, and may ultimately lead to failure, without additional help and a rapid knowledge injection.
Enter Sayfa…
Wayne Vos, an early team member, had family connections with Sayfa — a company from Boronia, Victoria, successfully bringing the modular approach to height-safety products. An introduction was made.
In October 2010 ,agreement was reached to establish a JV that would allow us to progress more quickly, with additional funding and support. The Moddex Group was founded. Dean Vos (Co-founder) came across from Sayfa and worked full time from the early days at Moddex. Together we progressed in leaps and bounds, now innovating under a national brand with real market presence.
We ran with a distribution model until 2014, at which point it became clear we must change things up and introduce a Moddex direct-to-market model if we were to deliver for our growing customer base and realise our full potential. Following a decision in favour of proceeding to market direct, some distributors were bought out and the stronger distributors amalgamated, progressively, into Moddex to create a market-direct user experience that worked better for our clients. This played out with all the usual challenges but, with give-and-take and a relentless focus on building team culture, I can confidently say the result has been the formation of "One winning team". Today, we're all there for the customers and each other.
Our endless pursuit of 'a better way'.
From 2014 things progressed with the usual ups-and-downs. Significantly, the opening of a branch in New Zealand in 2018 has seen us make our trans-Tasman customers smile, through consistent excellence in product, service and our unique brand promise that 'Everything Fits™'.
In summary, it's clear that none of this would have been possible without a ready willingness to accept failure — in fact, embrace failure and move through it positively.
We have momentum and the only way is up, innovating more rapidly and constantly improving what we do in our endless pursuit of 'a better way'.
Our ambitious goal to be the number one global force in handrail and access systems is still a dream — but we have the determination and the resilience to get this done.
You have my word, watch this space. 😉