For Project Managers in the construction industry, the end-of-project period has many pain points.
Planning is about bringing the future into the present so that you can do something about it now

Alan Lakein
One common end-of-project activity is the installation of handrail and balustrades. Pressure is high and last-minute compliance and installation issues can lead to unnecessary and costly delays on site.
Moddex are alert to the risks and has well-developed processes to identify and eliminate potential pain points for project managers.
A good example is the Moddex two-phase design process that includes Design Intent (DI) followed by detailed shop drawings.
Completed early in the piece, DI is a snapshot of the proposed installation before embarking on detailed shop drawings that picks up the extent and location of handrails and balustrades and allows for early identification of compliance issues. Common issues such as the additional width required for ramps after allowing for installation of handrails are identified at DI.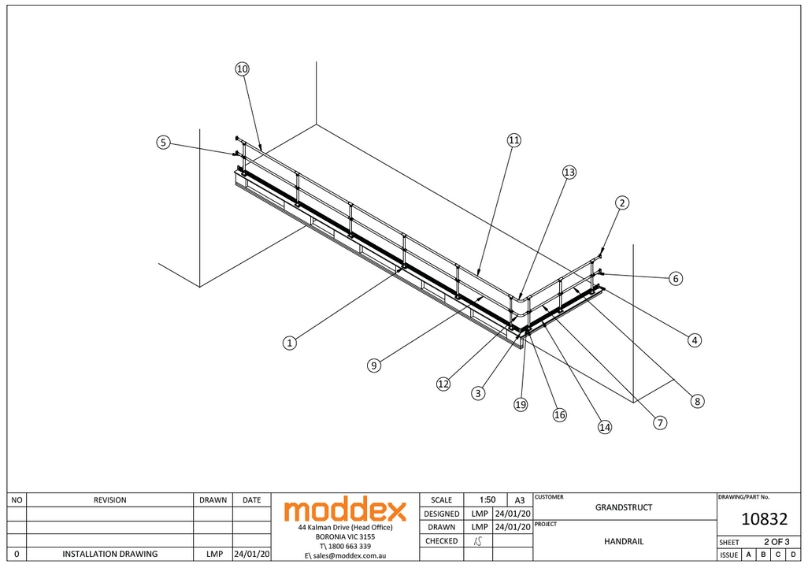 DI is typically reviewed by the project team and often signed-off by a compliance certifier, but the process provides enormous flexibility for customers to have input at an early stage and surfaces all potential issues before committing resources to shop drawings.
After finalisation of shop drawings, Moddex pick and pack all necessary components according to the section that is being installed and ship them to the site accompanied by detailed drawings for installers.
This minimises clutter on the job site and allows Moddex installers to work with fewer tools, less dust and noise, and with no hot works, the installation team can get in and get out fast. It also means that when installing on finished surfaces, there is a much lower likelihood of damage requiring remediation.
Despite everyone's best efforts, issues sometimes arise that require an on-site fix and, without missing a beat, the modular design means that the installation team can quickly and easily accommodate changes and adjustments can be made on the fly.
The net result of Moddex planning disciplines, innovative design and Everything Fits™ philosophy is simple – no surprises. Just high quality, durable and compliant balustrades with the industry's lowest lifetime cost of ownership.
Moddex – one less thing to worry about.
Ready to find out how Moddex can help relieve your end-of-project pain points? Talk to our expert team by calling us on 1800 663 339 or email sales@moddex.com.au with your inquiry. We look forward to hearing from you.