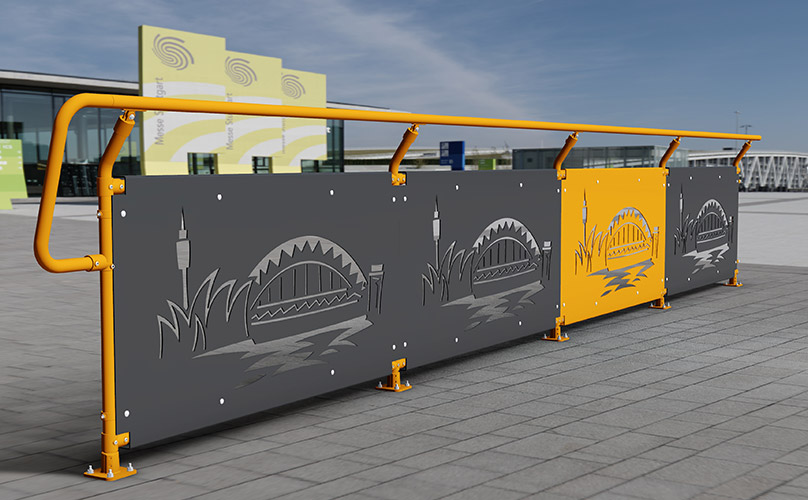 Moddex barrier systems, by their very nature, lend themselves to customisation.
Instead of having to measure, shape, cut and weld materials on site, with individual site design, Moddex handrail and balustrade systems are modular. What does this mean for customisation?
Our pre-engineered components are delivered to your work site with assembly instructions. No welding, no hot works permits, no toxic fumes..
But what do you do when you find that the plans you've been allocated don't reflect the reality of the site? For example, drainage and plumbing is in a different location from the one you'd allowed for. Moddex has a solution for most on-site issues that require some form of customisation.
Customisation on the job
To simplify complex installations and overcome most on-site challenges, our team created proprietary products:
Family of in-line joiners
The 'swivel' (internal expansion from 0-90 degrees) in-line joiner
The '90-degree' (fixed at 90 degrees)
The 'straight' (smaller diameter)
Spacing plate
Closes unexpected gaps across mounting surfaces
With these proprietary products, unique to Moddex, our clients and approved installers can customise their safety barrier setup on-site instantly – avoiding any potentially costly delays to re-design, manufacture and transport new parts to site.

Customisation case study
Where Moddex stands apart from the crowd is innovating our off-the-shelf product line by integrating with bespoke solutions. An example of this is our contribution to the Level Crossing Removal Project (LCRP) – Caulfield to Dandenong (also referred to as 'Skyrail'). We adapted our industrial handrail range by mounting a bespoke walkway bracket, saving the LCRP project team time and cost savings in the millions.
With 10 km of platform walkway required along elevated track sections for maintenance access, there were bound to be design challenges.
The walkway needed to be either mounted onto a custom fabricated freestanding structure (expensive and time consuming) or tie into a handrail system.
The Moddex solution – a combined walkway/handrail system – needed not only to support the walkway but also meet the load requirements in accordance with AS 1657.
Moddex met load requirements by adapting one of our proprietary, pre-engineered systems, 'Tuffrail – Industrial Handrails', and customising the system by creating a walkway support bracket'. We developed a bespoke casting for the application that enables the part to fix to our handrail post while also providing the support and structural strength required for the walkway.
Another site challenge was achieving the minimum path clearance between standard handrail and 'demarcation rail'. We customised our proprietary AR10 handrail system by suppling a small diameter for the 'demarcation rail' and three new fittings in 32Nb size to suit.
Problems solved.

Can we help with design and customisation of modular barriers?
Get in touch with our expert team or call us on 1800 663 339 (Australia) or 0800 663 339 (New Zealand). We're here to help, whether you're after technical support or you need advice on integrated barrier systems.