As an architect or specifier, you're looking for compliant handrail and balustrade systems that are functional and easy to specify. Being a MasterSpec Partner means that you have an ease of access to Moddex Handrails & Balustrade specifications when specifying or designing for projects.
Moddex won't let you down
Our mission is to make life simpler for you and give you certainty of:
Top-quality product.
Cost-effective product.
Compliance.
Supply and parts in stock.
Now with Moddex's Masterspec Branded Work Section, you can access Moddex product specifications even faster and easier than before.
What is Masterspec?
Masterspec is New Zealand's most trusted specifications platform because it provides specification systems and supporting software for the construction industry. On the Masterspec system there are seven libraries consisting of over 1,000 work-sections, each structured in consultation with experienced industry professionals to meet your specification needs.
In addition, Masterspec partners with industry manufacturers (known as Masterspec Product Partners) – including Moddex, to create technical branded work-sections to meet your specification needs.
Our editable templates are available in Masterspec specification – 4. Enclosure (4852ME) and can be customised for your specification.
MasterSpec Product Partner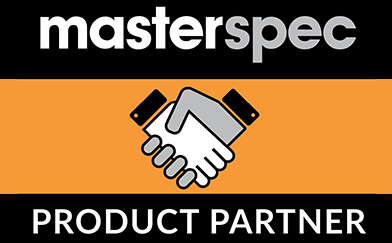 As a Masterspec Partner, we have created branded work-sections (4852ME) relating to specific Moddex Systems:
Assistrail® Disability and Public Access handrails
Assistrail® Disability Handrails are designed for use across ramps, stairs and walkways, with flush connections for a smoother, safer finish.
You will have the peace of mind of knowing that Moddex Disability Handrails comply with the Disability Discrimination Act (DDA). It also adapts to every building classification within the National Construction Code (NCC) and the New Zealand Building Code.
Bikesafe® Bikeway Barriers
Bikesafe® Bikeway Barriers provide the ultimate protection for cyclists travelling at speed.
Moddex Bikeway Barriers designs align with Austroads Guide to Road Design Part 6A and 6B and the NZTA Bridge Manual. Thus, providing the ultimate protection for cyclists travelling at speed.
Connectabal® Commercial Balustrades
Conectabal® Commercial Balustrades prevent injuries or falls from retaining walls and elevated areas.
Moddex commercial and industrial balustrades offer a high safety load rating. As a result, achieving compliance with every standard in any application.
Tuffrail® Industrial Handrails
Tuffrail® Industrial Handails deliver AS 1657.2018 and NZS 1657.1992 protection for workers across mezzanines, platforms & walkways.
Benefits of being a MasterSpec Partner
Detailed specifications will reduce your risk of getting substandard products. Therefore, Moddex Branded work-sections include all the relevant and detailed information.
The Moddex branded work section offers a number of advantages including:
Work section support from Moddex while working on our branded section including commenting and editing.
Have a peace of mind when specifying a Moddex product with the correct detail, installation and on-going care instructions.
We ensure that the Building Codes and Standards that apply are cited correctly and up-to-date.
Precise specifications, thus minimising time spent on customising the work section.
Access current product information instantly in the Masterspec system, from our listings on the miproducts National Product Database.
Partner with Moddex
We believe in working as your partner throughout a project. Because our team can work with you to identify the different systems that will be used in your project. And additionally, match them to the correct Moddex system configuration number. Above all, we're also happy to share our product engineering data and test results with you.
We're experts in our field so you can be assured that every system and component is fully compliant with New Zealand Standards.
Get in touch with our expert team, call us on 0800 663 339 (New Zealand) or access our Masterspec work section. We're here to help, whether you need a quote, technical advice or tender support.