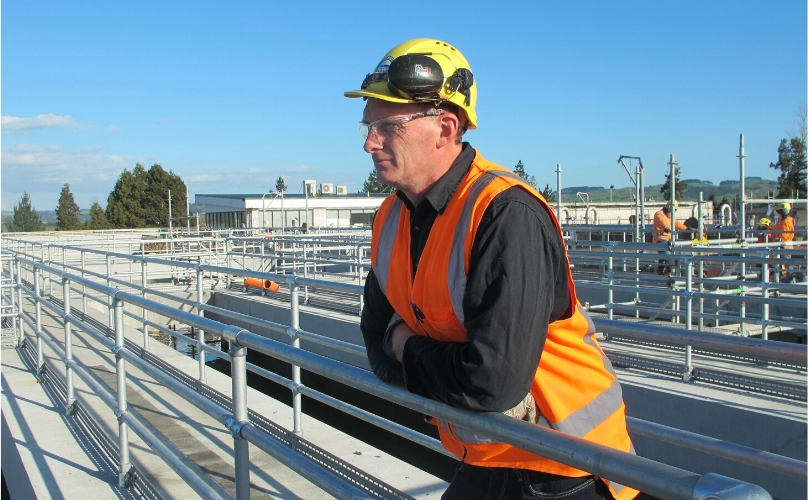 Flexibility is one of the key factors behind Moddex being selected to provide barrier systems for the $80m Pukekohe Wastewater Treatment Plant upgrade. This is a joint venture between McConnell Dowell and HEB Construction, requiring around 2500m of handrail. Pukekohe WWTP is a complex project with various teams of up to 120, working on different areas simultaneously. With the goal of tripling capacity to meet the demands of population growth, the project comprises various stages, the most complex being the recently-completed reactor.
The 50m x 28m reactor project required a flexible barrier walkway system across multi-sized concrete cells with varying split joints, so a modular system was an obvious choice to accommodate the many irregularities. The scope for the reactor was for 200m 3-rail aluminium handrail system and another 1700m of handrail in HDG.
Pukekohe $80m Project
The flexibility of Moddex's pre-engineered configurations enabled assembly and mounting of a handrail system onto walkway sections quickly and easily on-the-go as they became available. By assembly taking place at ground level, safety was ensured by completely removing the risk of potential falls from the 5.5m high platform.
We supplied our Tuffrail® range in hot-dipped galvanised steel and aluminium to give maximum longevity against the highly-corrosive environment due to high levels of H2S. Moddex configurations used included the Tuffrail® TR35 and Tuffrail® TR30A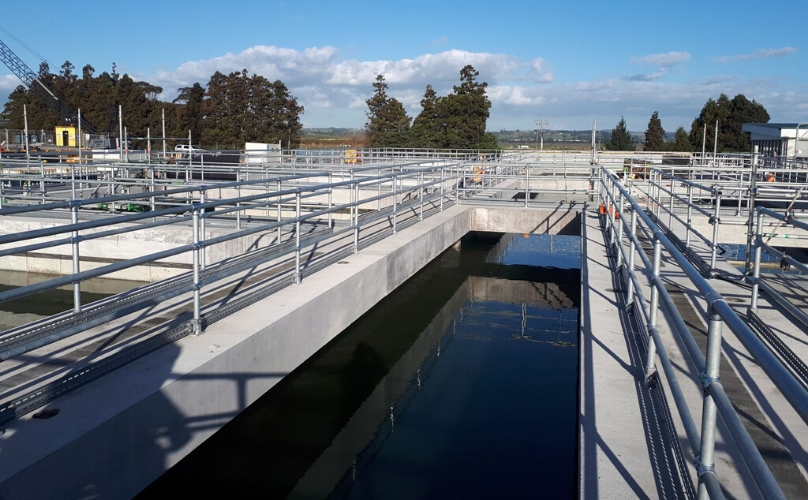 Bruce Williams, Senior Project Engineer at McConnell Dowell, shared his experiences working with Moddex. He's extremely impressed, admitting that his company probably couldn't have gone any other way for the speed they needed. Bruce told us, "knowing how our builds are here, the component-based system gives us the option to build it when it suits the program." He listed additional multiple benefits, both to McConnell Dowell and to their client, Watercare:
Key benefits of Moddex reported by the construction team
Modular configurations are perfect for working flexibly around constantly-irregular angles and gaps such as split joints in the Pukekohe WWTP.
Extreme usability a huge plus, particularly when working on-the-fly with fluctuating site conditions and varying site availability times.
High ease of use and a very construction-friendly system. Bruce has the confidence in being able to leave his teams to run autonomously with Moddex components.
Cold galvanising is not an option. Watercare only accepts HDG, so the fact that Moddex modular components arrive already as HDG and ready to bolt in rather than weld is a huge boon.
High safety component from the ability to assemble at ground level rather than at heights.
Cost-effective both in terms of materials and quick installation turnaround times.
Cost-competitive compared with other suppliers, particularly against traditional welded barriers
High responsiveness of the Moddex project management team to deliver components such as stanchions and elbow joints pre-assembled as required and ready to bolt in.
Largest range of modular components to accommodate site variations as they come up.
Install teams were able to overcome all obstacles on the fly, without any need for cutting or welding, allowing other teams to move in quickly when sites became open and meet project deadlines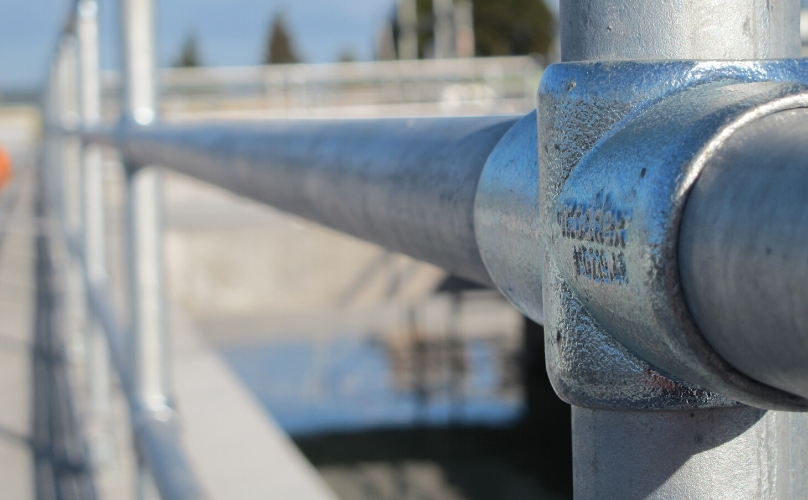 Key benefits to their client, Watercare
Watercare favours modular systems as they reduce the potential for water contamination – being no-weld, they eradicate the need for hot works and associated safety hazards of grinding, welding and creating sparks in a highly-flammable environment.
The client also prefers a component-type system as it removes corrosion issues often encountered with traditional welded systems due to the grinding process.
Ultimate quality and longevity in the final product.
100% industry compliance guaranteed.
Contact us here to find out how Moddex flexibility can help you achieve the ultimate in handrails and balustrades. At Moddex, everything fits™.
View the Project Case Study