Unforeseen obstacles frequently form part and parcel of handrail and balustrade installations. Reo clash is a good example, potentially slowing installation times by 50%. Not so with Moddex. We're always thinking ahead to solve challenges and deliver systems quickly and seamlessly. We reduce time onsite to an absolute minimum by streamlining processes, consistently delivering on our customer guarantee of 100% Australia and New Zealand industry-standard compliance.
When drilling into reinforced concrete cells, contractors can inadvertently hit the reinforcing steel, creating a reo clash and compromising structural integrity. In fact, if the drill hits the steel in more than 2 places, the guarantee is instantly voided on some precast products. Often, rather than reporting the issue, contractors will push on regardless, causing untold headaches for the project manager and client, and extensive delays in reworking.
How we avoid reo clash at Moddex:
Our contractors use concrete scanners to detect steel reinforcing and prevent clashes when drilling
Moddex modularity creates easily-adjustable handrails and balustrades which accommodate obstacles seamlessly
Moddex expertise ensures we are placing fixings/fasteners in the best location possible
On a large-scale handrail installation on a recent rail project, Moddex came up against a potentially-huge reo clash issue. The structural reinforcing steel within the concrete culverts was positioned high, greatly increasing the risk of drill hitting steel. Our contractors immediately alerted us to the problem and our team of Moddex engineers got straight to work, quickly coming up with the perfect solution.
Easy-to-use Moddex modular technology allows for easy adjustments. Which we made in the location of the baseplate to clear the reinforcing steel. Because Moddex systems are 100% no-weld, we avoided the potential cost- and time-consuming transportation offsite for recutting, rewelding and regalvanising. The inevitable project delays with a traditional welded system would have been significant.
Not only that, but a traditional welded handrail would have come up too high, rendering the handrail non-compliant to industry standard AS 1657. With Moddex's extensive range of adjustable modular components, we adjusted every handrail to be 100% compliant as promised. The unique modular technology accommodates common inconsistencies – including variance in offset, gaps and heights of culvert cells – with ease, as demonstrated by the images below.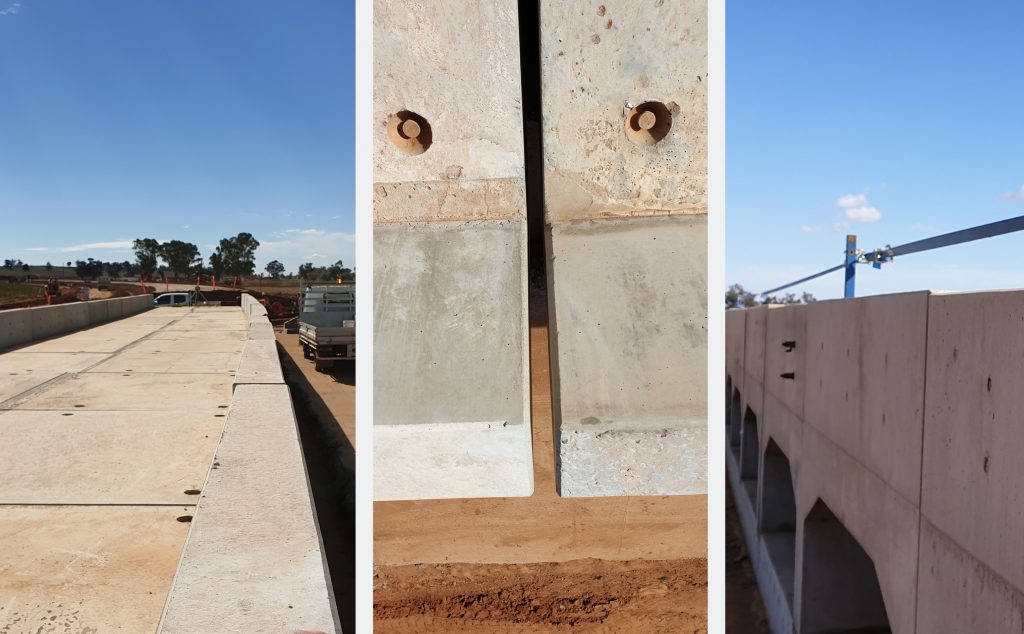 Our client couldn't have been happier with our customer service, fast-thinking engineering expertise and their modular barrier system solution. They expressed relief at choosing Moddex over a traditional, welded system. This choice could have spelled disaster; extensive delays, untold warranty issues, not to mention loss of reputation.
Moddex Ensures Compliance
By choosing a Moddex barrier system, you're investing in a durable, long-lasting and ultimately low-cost-of-ownership solution. We pride ourselves on acting with integrity, helping our customers by seamlessly delivering successful handrail and balustrade projects.
At Moddex, we work dynamically to find solutions to your every project obstacle. We make sure that everything fits. In fact, our customers rate us as the #1 lowest-risk supplier of handrail and balustrade systems.
Call us today on 1800 663 339 to find out how we can help accommodate every potential hurdle to bring 100% success to you and your project.