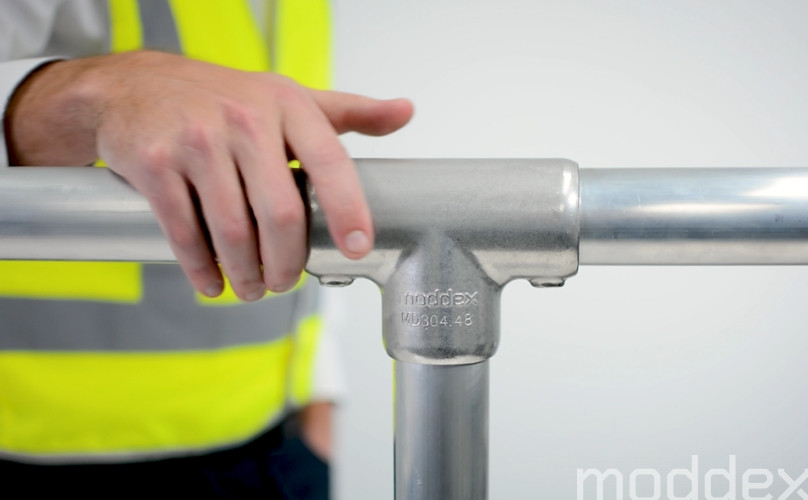 Handrail and balustrade is a competitive sector and the construction market is congested with options for buyers.
At Moddex, we embrace competition. To us, competition is the incentive to progress.
We are focussed on supporting project managers in the construction industry and protecting them from the risk of unnecessary and costly delays with handrail and balustrade installation and compliance. This is why we thrive on complexity as this is where the problems lie. Complexity helps us to surface all the issues and to apply our problem-solving and innovation skills to solve every potential barrier challenge.
We believe that innovation and flawless execution separates leaders from followers.
We are relentlessly driven by our goal to be the leader in modular, no-weld barrier systems and if a competitor says they supply modular balustrade like Moddex, ask yourself whether they:
· Deliberately seek out and pressure test their products in complex environments
· Routinely identify every potential compliance and installation issue in advance to minimise risk and project delays
· Invest time, money and resources in innovation, design, compliance, prototyping and testing.
· Deliver and execute flawlessly, every time, earning an NPS of 92 and winning Best Supplier of the Year 2019 at the Australian Construction Awards
· Protect project managers from the risk of unnecessary and costly delays with handrail and balustrade installation and compliance.
If they don't, they're not Moddex.
We have countless examples of how our innovation and thinking reduces risk and delivers superior outcomes to project managers. Here are a few:
Moddex In-Line Joiner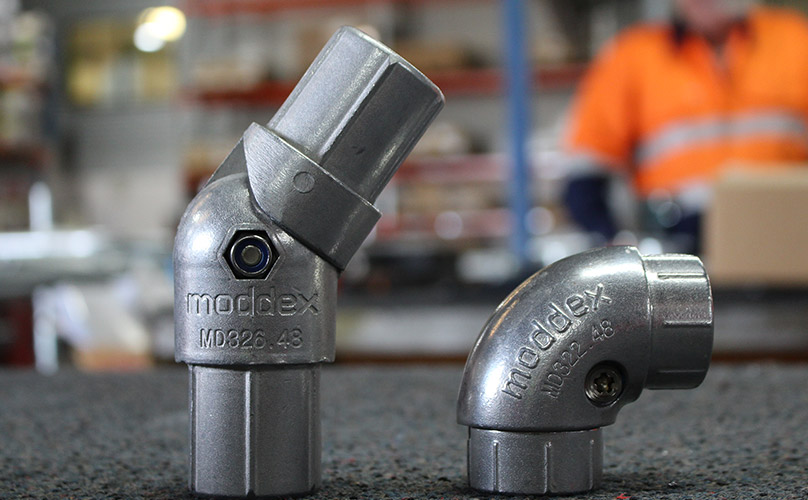 The Moddex In-Line Joiner is an ingenious and time-saving component that fits all Moddex handrail and balustrade system designs. Made from galvanised steel and marine grade aluminium, it comes in a range of swivel, straight and 90-degree forms and fully complies with AS/NZS 1428. Together with Straight In-line and 90-degree joiners, we can overcome any on-site challenge and simplify any complex handrail or balustrade installation.
As you'd expect from Moddex, installation is simple; all you need is a battery drill and rivet gun, so no need for running power leads or bringing in heavy welding equipment.
DEXX® Locking Screw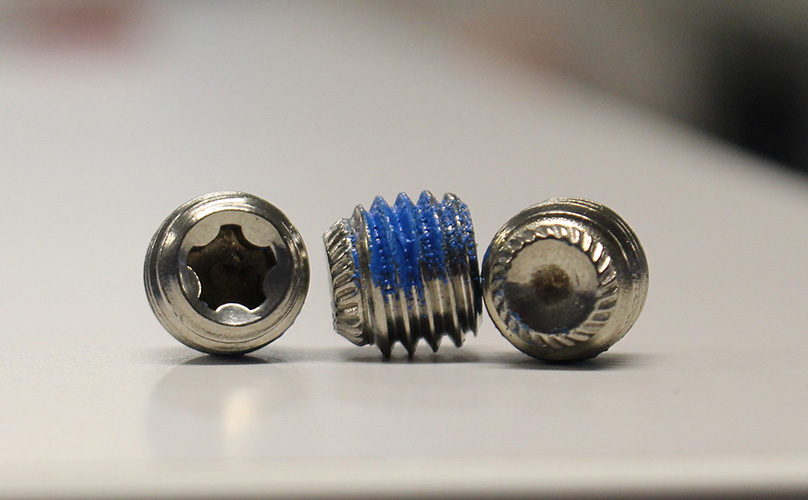 DEXX® Locking Screw is a great example of Moddex's innovative engineering in action. Overcoming site-security issues such as vandalism and loose screw connections from vibration, the DEXX® Locking Screw provides a tamper-proof, long-lasting solution. Thanks to DEXX's advanced knurled-edge technology and nylon thread patch, the structural integrity of your site is guaranteed. The knurl edge allows for deadlocks which withstand even the most rigorous vibration tests.
With DEXX® Locking Screws provided as standard, you can rest-assured you've equipped your team with the safest-possible site.
Tuffgard® Toeboard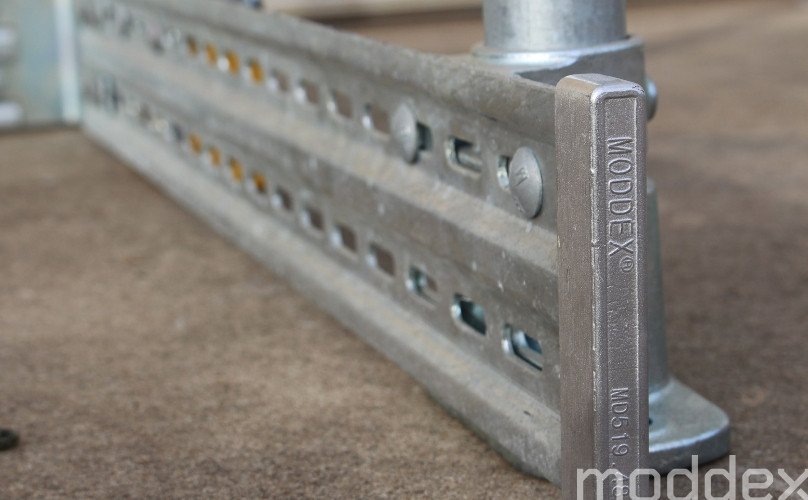 Light, flexible and tough, the Tuffgard® Toeboard was created in response to AS/NZ1657 and provides an unprecedented level of safety and security against hazards such as falling tools across maintenance platforms, mining and construction sites. Unlike other toeboards on the market, the Tuffgard® Toeboard is completely modular and adjustable.
The modular post bracket assembly allows you to make fine adjustments very easily in order to meet the legal 10mm gap requirement above raised walkways. Slotted holes in the Tuffgard® Toeboard allow for almost-infinite adjustment when fitting up to the post bracket, so you have the control and flexibility to adjust the height of the toeboard across uneven surfaces without the need for welding tools and onsite customisation.
Moddex Tuffgard® Toeboard is the quickest and easiest way to fully comply with Australian and New Zealand Industry Standards and ensure maximum site safety for your workers.
Adjustable Top Rail Fitting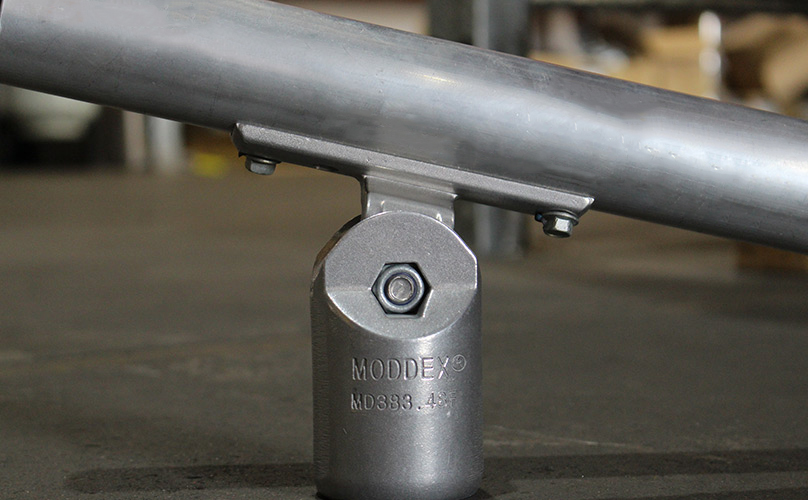 Moddex's answer to providing an 'unrestricted movement of the users hand' (AS/NZS 1657) comes in the form of the smooth-fitting, adjustable top rail fitting. Unlike the old traditional welded ball-joint, the top-rail fitting is designed to achieve uninterrupted, continual hand flow for the end user. Our ergonomic design spans from level to 45 degrees and features rounded edges, along with strategic placement of locking screws beneath the rail.
Ergonomic Connector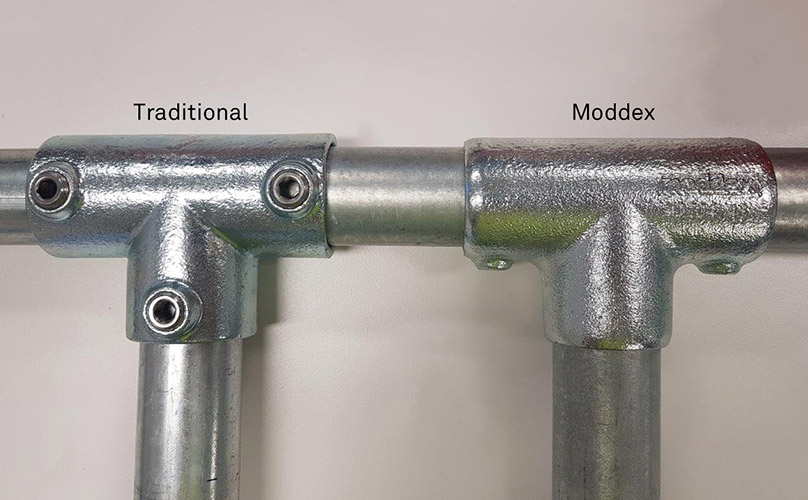 Gaps and openings are danger zones for handrail and balustrade structural integrity. Dust and water can lead to contamination, rust and structural degradation. Traditional modular handrail connectors are visually-unappealing and full of gaps. Part of the Tuffrail® range and available in all Moddex designs, the ergonomic connector is available in galvanised steel, stainless steel and marine-grade aluminium. It's tough against corrosion, 100% industry-standard-compliant, capable of withstanding the harshest environments including oil rigs and wastewater plants.
The implication for user-safety is huge. Unlike traditional connectors which stand proud of the rail, users are far less likely to lose their grip on a Moddex ergonomic connector and its thinner-diameter form. With unimpeded flow of the hand on the rail (AS/NZS 1567) plus deadlocked DEXX® Locking Screws flush underneath, the ergonomic connector fits the Moddex modular range perfectly to create barrier systems of unbeatable safety.
Thread Protection Coating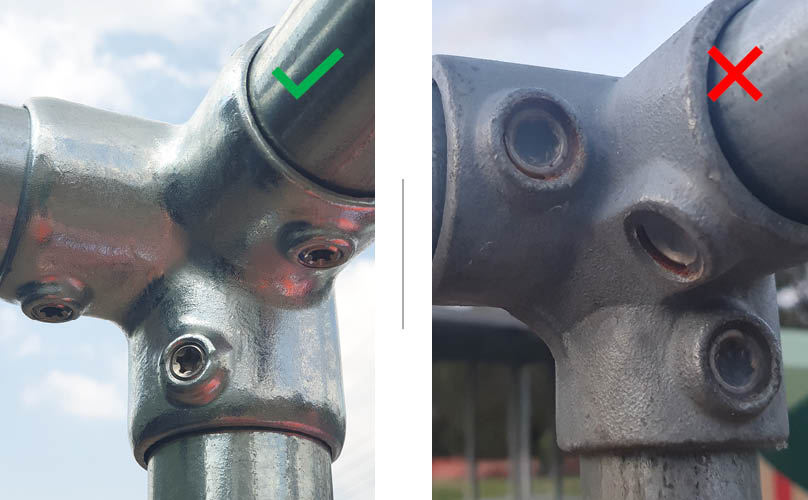 As is the normal process for treating cast components, Moddex connectors are hot dip galvanised before our critical locking screw thread is machined. Our differentiation is in the thread protection coating that we apply after the hot dip galvanising and thread cutting process. This final zinc coat covers both the previously hot dip galvanised surface and the freshly cut threads. This creates a dual finish on the main body of the connector and a durable coating on the raw steel that is exposed during the thread machining process.
The long-term effects of this additional coating are very apparent in the field, with the threads holding up exceptionally well even in corrosive environments and supported by our product warranties.
Smooth Mandrel Bends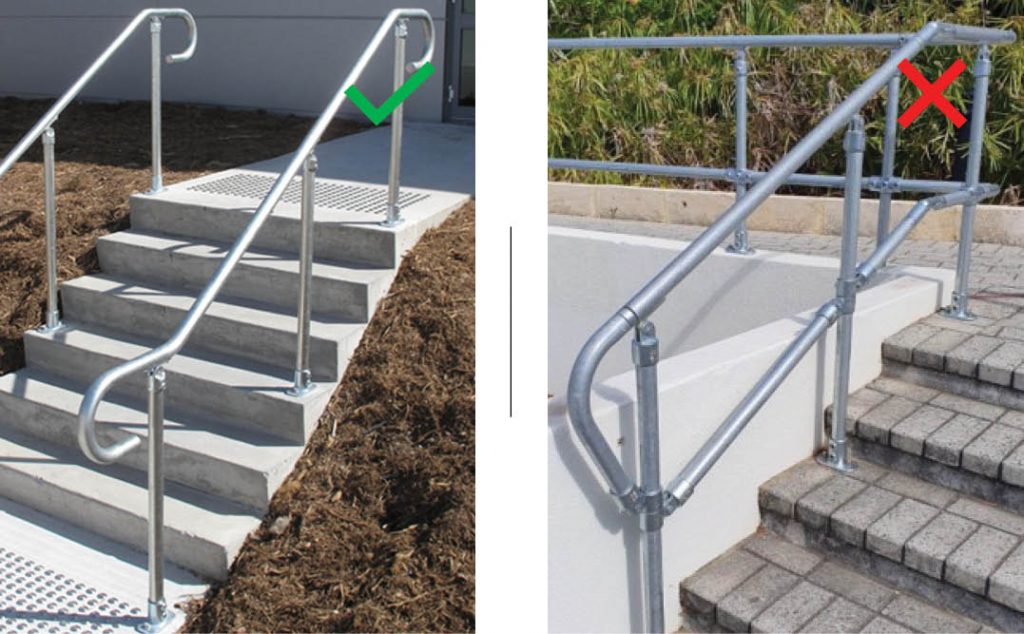 To ensure smooth hand flow, strength and durability, Moddex handrail transitions are typically mandrel bent to suit site specific angles and dimensions. Mandrel bending is an advanced method for forming pipe into radius bends whilst supporting it internally with a steel plug call a Mandrel.
Inferior handrail transition points are often assembled with couplings rather than mandrels bends in the critical load bearing transition areas of a handrail. This increases the chance of a handrail failing or coming loose in time and does not provide a neat finish that fits well into the hand.
Modular System Connectivity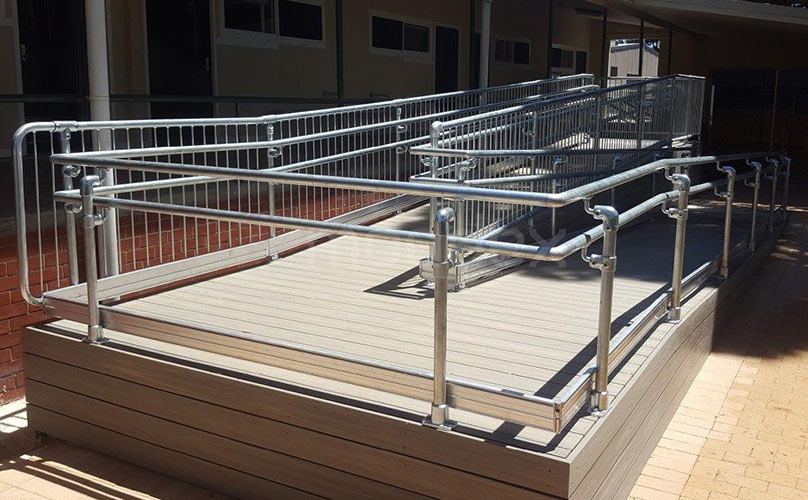 At Moddex, we're continually striving to make modular better. Our research and development team has moved beyond connecting modular components to create a single handrail or balustrade system. Through modular system connectivity, it's now possible to achieve seamless connections from disability handrail systems to commercial balustrade systems.
From disability access areas through to walkways and platforms for everyday use, Moddex Assistrail® Disability Handrail configurations will connect directly with Conectabal® Commercial Balustrades to achieve compliance on your next project.
Three Material Types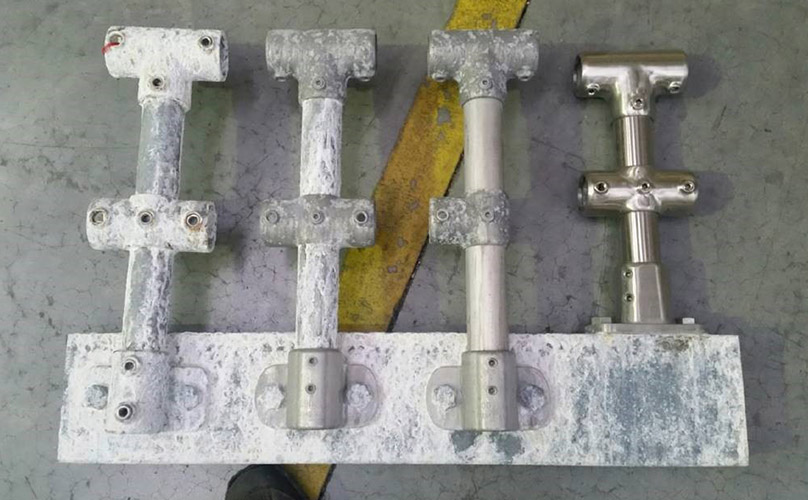 When you're dealing with sites exposed to the elements and harsh chemicals, you need to know that the handrail and balustrade systems in place are tough and capable of providing maximum site safety. Moddex industrial handrail is available in three material types – hot dip galvanised steel, marine grade aluminium or 316 grade stainless steel, that between them cater for pretty much any environment! For industrial projects in corrosive environments such as the water, mining and resources sector, Moddex is the only choice.
Ready to find out how Moddex can help you? Talk to our expert team by calling us on 1800 663 339 or email sales@moddex.com.au with your inquiry. We look forward to hearing from you.