In the past couple of years, we have had the opportunity to work on a number of inspiring and challenging projects. These projects have become milestones within our organisation for varied reasons. There is, however, one clear theme these projects have in common – collaboration. Collaboration between suppliers, designers, clients – it goes to the heart of our organisation and our core value "Make our customers smile"
Checkout our flashback below to the top 5 featured projects. It's this inspiration that drives us to look forward to the future and the exciting projects and collaboration to come!
Here's our number 1:
Caulfield to Dandenong Level Crossing Removal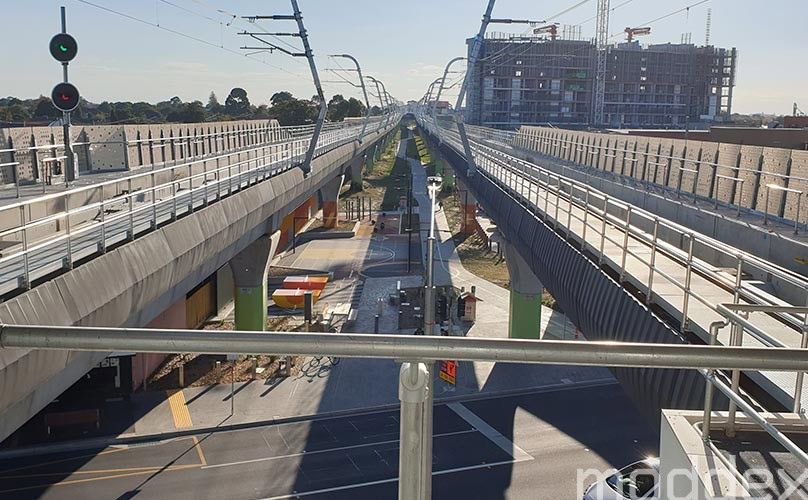 This $1.6 billion project was the single largest level crossing removal project in Melbourne history! CPB Contractors as part of an Alliance with Lendlease, WSP, Parsons Brinckerhoff, Aurecon, LXRA and MTM delivered the Caulfield to Dandenong package with the project opening in early 2019.
Being a large infrastructure project, this project had many complexities. One of the hurdles was the need for a platform walkway system along elevated sections of the track for maintenance access and emergency evacuation. We worked with designers early on in the project to develop an innovative custom bespoke bracket system for the project which would support a walkway structure.
We ended up supplying over 30 kilometres of handrails along the elevated track and its associated structures.
Whilst this was a challenging project, to be able to work alongside the designers, engineers, contract administrators and solve issues for the project team as they emerged was certainly rewarding. We were able to stare down the challenges and push ourselves by innovating our existing proprietary, pre-engineered Tuffrail modular system.
Through innovating our product line, we were able to save the client significant time and dollars – this is the sort of thing that gets us really excited & is why this project makes it to number 1!
A close runner up & worthy project for number 2
Ballarat Line Upgrade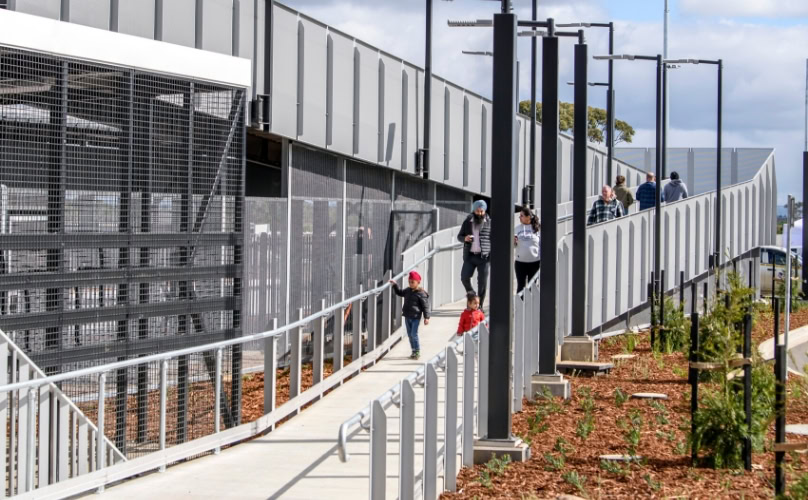 This $1.75 billion project was about bringing extra benefits for locals. A joint initiative of the Australian and Victorian governments, this project included upgrading every regional passenger train line in Victoria to deliver much-needed extra services for the growing communities along the line.
The scope of this project involved many complex design issues. One of the challenges included the need for a new handrail to fit around existing custom balustrade systems. Working closely with the client, we secured the relevant data and our engineering and design teams provided hole centres, post heights, testing and pre-engineering information to show clearly how the Moddex system would work on their new structure.
From here, we engineered the perfect customised lightweight modular aluminium system for 3 new build stations, creating a stylish, modern and long-lasting finish.
Whilst this was a complex project, nothing challenging ever goes without its rewards! We were able to live up to our core values and 'make our customers smile' by working with the client to solve problems as they arose. Here at moddex that is what we are passionate about – adding value and going the extra mile for our customers.
By using our unique pre-engineered designs, we were able to save the client time, money and supply a barrier system with the lowest lifetime cost of ownership. This combined with a very satisfied customer makes this project very worthy of this number 2 spot!
Coming in at number 3…
Nga Puna Wai Stadium
Is the $53.65million Nga Puna Wai Sport Hub! The Christchurch earthquake which destroyed much of the city's key infrastructure, also ruined many popular, well-used sporting facilities. As part of the massive rebuild, the Christchurch City Council built this multi-sports facility which opened in early 2019.
The project was complex, requiring crowd-loading compliant barriers, with lighting built into handrails and multi-directional access ramps, requiring a degree of flexibility unusual on such projects. One area of particular complexity was the lighting built into the balustrades on an access ramp with a number of transition points. The electrical wires buried in the concrete on the edges of ramp had to emerge at the exact places the balustrade stanchion posts would be fixed to the ramp so the wiring could be carried up inside the posts to their final position.
The Moddex team worked in close collaboration with a number of sub-contractors to ensure exact placement of the stanchions with extreme accuracy and superb attention to detail.
With our flexible modular system and hard-working team we were able to ensure the client could keep to budget whilst overcoming these challenges. Being able to stare down the challenges to deliver a superb modular handrail & balustrade package for the Christchurch City Council was truly rewarding and is why this project makes it to top 3!
A rush to Number 4.
Springfield Sporting Centre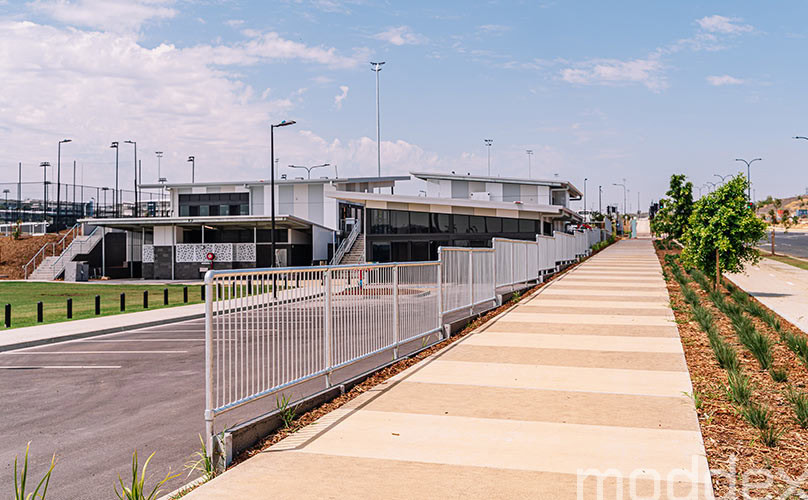 The $56.2 million Springfield Central Sports Complex is the largest sporting facility in Ipswich's history! With one of the fastest-growing populations in QLD comes the need for sporting facilities to accommodate and we were only too happy to supply Springfield with the perfect handrails and balustrades to fit.
The project brief was for a system delivery in an extremely narrow timeframe. In addition to this, added pressure was put on as variations invariably came up on the project. One of these was to customise stickered-panels to meet the architect's specific requirements. This wasn't part of the original scope and required our team to work swiftly and efficiently with our client to measure, deliver and install the solution quickly onsite.
By having our warehouses fully-stocked as standard and working with flexibility to fit to changing timelines, we were able to 'own it, do it' and deliver on our promises with absolutely no delay to our client. As we like to say at Moddex, everything fits™. This project certainly proved this, making it all too deserving of this number 4 spot!
What makes this a top 5 project?
Sydney Superyacht Marina
The Sydney Superyacht Marina caters for the worlds' greatest Superyacht in the world's greatest harbour. The 30million redevelopment of the Superyacht Marina at Rozelle, Sydney, involved a four-storey car park consisting of 217 car spaces and totalling over 7394m2 with associated lift and feature green wall.
Modular railings and balustrades don't just need to be compliant and functional; we believe they should look good, too! This project not only ticked all boxes in regards to compliance, quality, and durability, but also aesthetically. The Moddex Team worked closely with our client to supply & install balustrading, with the top rail in blue powder coat to match the other design elements of the carpark exterior for an aesthetically pleasing look.
From site measuring, producing CAD drawings and selecting the best fit-for-purpose materials and modular components to manufacturing, delivering, and installing exactly as specified, Moddex came together as one winning team to provide a superb aesthetic solution for the client. Kicking goals together to make our customers smile is what we love here at moddex and is why this is our top 5 project!
Want to see more? Check out our other projects here