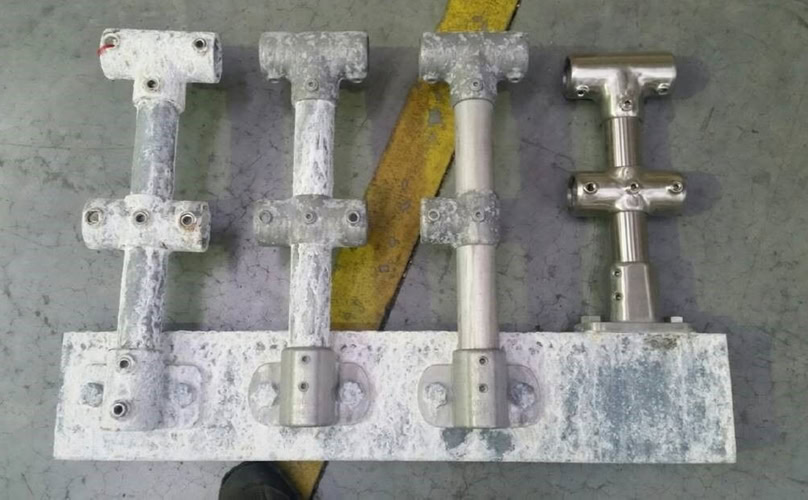 When your project demands high-endurance handrail and balustrade systems built to withstand extreme corrosive conditions, look no further than Moddex. Our Moddex modular systems deliver the ultimate in robust performance to withstand the harshest environments and the most stringent testing. No matter how challenging the site environment, from water treatment plants to oil rigs with high levels of water and chemical exposure, Moddex has the solution for you.
When it comes to longevity, Moddex handrails outperforms pre-fabricated options, bringing you high durability and low lifetime cost of ownership. Enjoy guaranteed peace of mind, knowing every system is fully tested, delivered fit-for-purpose and 100% Australia/New Zealand industry-standard compliant. Putting our components through tough testing procedures – such as salt/acid fog booth and sinusoidal vibration testing – we ensure a corrosion-proof system. Moddex systems consistently overperform under testing, enduring zero degradation, so minimal ongoing maintenance costs.
Our cutting-edge innovation in engineering design and application guarantees the ultimate in corrosion-resistance. In addition, the Moddex modular range of components, including Tuffgard® toeboards and Tuffrail® handrails, are engineered to fit together perfectly for an easily-configurable handrail and balustrade system. Working with Cairns Regional Council on their Babinda Boulders project, Moddex delivered powder-coated balustrade panels which were not only highly water-corrosion-resistant but also aesthetically suited to the natural surroundings.
Moddex modular components fit together to form tighter connections and tamper-proof deadlocks because it is 100% no-weld. Which leaves no gaps for water or chemical corrosion to set in. Also, no welding means no costly onsite welding tools and machinery. And additionally, quicker, cheaper and easier ongoing maintenance, giving you a much higher return on your investment.
Safety with High-Endurance Handrail and Balustrade Systems
Project site safety is our top priority. Our Moddex technical experts will work with you to assess your site and scope out your project. Which will provide you with all the relevant safety and compliance advice. Using the highest-grade raw materials, including hot dip galvanized steel, marine grade aluminium and 316 Grade Stainless Steel, we tailor the best solution for every project. With finishes such as custom powder coatings, your Moddex solution will stand the test of time, in style. North Cottesloe Surf Lifesaving Club is a case in point.
Moddex minimises hazard-risk by designing according to the unique site environment. You won't find tougher than Tredmaxx® stairnosing to give firm grip at the edge of each tread. Constructed from industrial-grade fibre-reinforced plastic (FRP) with a silicon oxide gritted wear-resistant and corrosion-resistant surface, it gives maximum protection against slipping and falling.
Galvanised zinc provides corrosion resistance and high-endurance for Moddex Assistrail® disability handrail and balustrade systems. Thus, ensuring an uninterrupted flow and maximum grip as users run their hands along the rail.
Discover more projects where Moddex has delivered in challenging environments:
Get in touch with our friendly Moddex team today to discover how Moddex can deliver your ultimate project solution that stands the test of time.