Over the past few years, Moddex has been working collaboratively in partnership and supporting some of New Zealand's most significant government organizations to identify risk and provide a robust handrail or balustrade solution for projects that are forming the fabric of the nation's future.
Working in collaboration with Watercare of Auckland Council, The Ministry of Education of the New Zealand Government, and State-owned enterprise Kiwirail, Moddex is a leading supplier of low-risk, innovative handrail and balustrade systems.
Working with & Supporting Watercare
Moddex work closely with Watercare to undertake compliance measures and product selection to ensure that Auckland's important infrastructure assets are safe with fully compliant handrails.
Moddex plays a key role in supplying a handrail solution that overcomes many of the concerns associated with corrosion and chemical exposure.
Available in three different material types: hot dip galvanised steel, marine grade aluminium or 316 grade stainless steel, our Industrial Handrail Tuffrail® range is engineered to provide NZS 1657.1992 compliant protection for workers across mezzanines, stairs, service platforms, walkways and fall edges. E.g. Reservoirs and Water Treatment Plants.
Manufactured in-house, the efficient installation method of our modular systems reduces the risk potential of water contamination- being no-weld, they eradicate the need for hot works and associated safety hazards of grinding, welding and creating sparks in flammable environments.
In most cases, Moddex are able to model our handrails off the structural steel drawings, which includes detailing in the hole positional for the structural steel suppliers to drill. On projects like the Pukekohe Reservoir and Mangere Wastewater Treatment Plant, our specifications were then checked off against site dimensions to ensure a perfect fit on site. Our client received everything perfectly cut to length, in kit-form, ready for a quick and easy installation.
Working with the Ministry of Education
Moddex has been a long standing supplier of our compliant, modular handrail and balustrade systems to government-led projects under the authority of New Zealand's Ministry of Education.
Since 2018, Moddex has delivered exceptional handrail solutions to school projects across NZ, with the expansion of new classrooms and essential upgrades that will serve the education needs for future generations.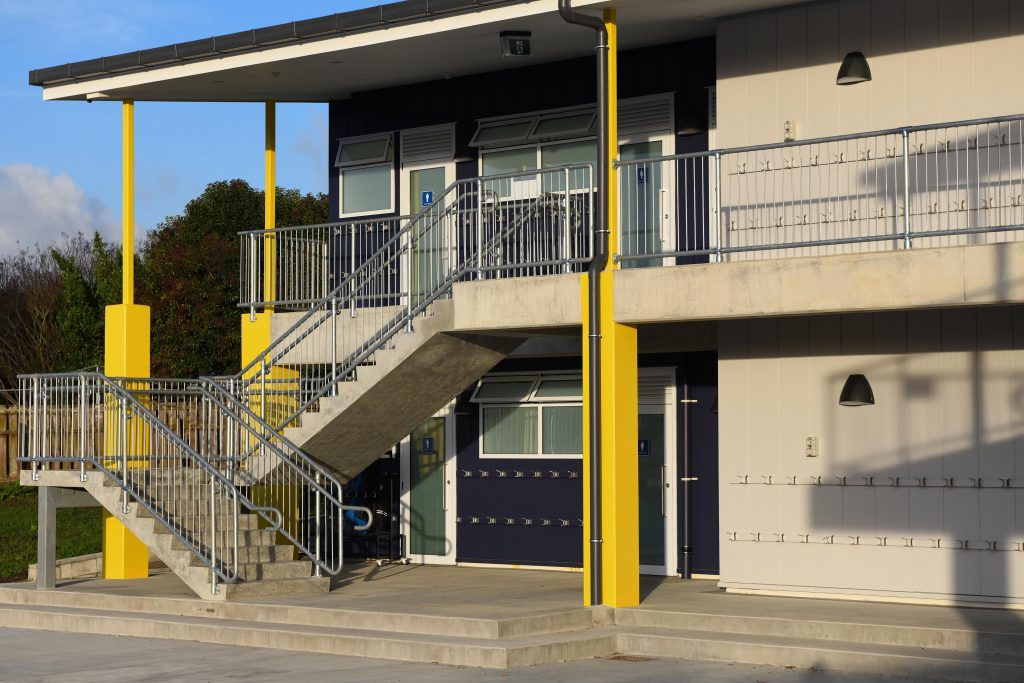 How we support Ministry of Education
With Moddex, you can be certain that compliance is intrinsically built into our systems and the way we operate. Moddex makes the administrative and compliance processes easy by providing our clients with our own producer statements (PS1). These producer statements reduce costs and can speed up the approval process required from relevant local councils.
With proven track record of successful school projects, Moddex has gained an outstanding reputation for our 'turn key' mode of operation, optimising efficiency and securing compliance every step of the way for every one of our projects. Our pre-engineered modular systems make installations fast with no need for welding or disrupting regular school hours.
This job has been a challenge with the timeframes, design, last minute changes and installation not to mention fixing detailing. [All] handrails [were] integrated perfectly, which is due to the meticulous work of yourself, your team and the installation. After being presented with the timeframes and last minute changes, Moddex rose to the challenge and got it done. The install went seamlessly well, and bang on time. This is now a major feature of the new Modular Building of the school, and they love it.

Client from Interlink Modular
Moddex are proud of the role we continue to play in supporting the Ministry of Education in making classroom builds compliant and safe for students, teachers and parents.
Find out more about some of the projects we completed for the Ministry of Education New Zealand:
Working with and supporting KiwiRail
Working alongside New Zealand's largest rail transport operator KiwiRail, we gained an opportunity to respond to some of the rising challenges they are facing with safety, compliance and maintenance on rail bridges.
Designed in partnership with KiwiRail and the University of Canterbury, the Moddex cantilevered walkway and handrail system named Kliptread, can retrofit on any I-beam bridge structure on the rail network.
Kliptread is available off-the-shelf as a fast-install, modular kit set and has no need for specialist trades, scaffolding or hot works on site.
Moddex are proud to be part of creating a revolutionary product that will make bridge maintenance safer and easier.  Installs with KlipTread are now easier, faster and at a lower ongoing cost of previous custom engineered walkway solutions.
To be perfectly honest I was actually quite surprised how easy it was, you know, the way we normally would do things is a bit primitive and this is definitely something that will help us in the long run. What I liked the most was how easy it was to install the legs, the arms, it just clips straight on top of our spans. To me personally, health and safety is key and with this product here you just need a harness. It can also be installed from the top and it's pretty much up in just a couple of hours' time. I would definitely use this on other bridges and definitely  recommend it to other Structures' Teams within the South Island and New Zealand.

James Gapper, KiwiRail
Find out more about our new walkway and handrail solution: https://moddex.com/products/kliptread-walkway-system/
Work with Moddex
Here at Moddex, we thrive off innovation and challenging the status quo to overcome problems by seeking out solutions by way of new techniques, processes, and designs to build smarter and safer products and infrastructure.
Moddex is New Zealand and Australia's leading supplier of low-risk, compliant modular barrier systems.
Contact Moddex
New Zealand: 0800 663 339 or sales@moddex.co.nz
Australia: 1800 663 339 or sales@moddex.com.au