It is often overlooked, but new public infrastructure like the Barr Creek Bridge has an intrinsic ability to create stronger community bonds between people, enhance recreation, reduce our environmental footprint, raise environmental awareness and promote healthier social and economic opportunities
As part of the Cairns Regional Council's plan to finalise a vital connection of the 'Northern Beaches Leisure Trail', Moddex was privileged to be an integral part of the design and supply of our modular bridge barriers to the new addition, Barr Creek Bridge.
Contracted by Davbridge Constructions, Moddex worked in sync to supply our modern Bridgerail™ Bridge Barriers to the entity of the bridge which provides guaranteed compliance with AS5100.2 Clause 12.5 and the NZTA Bridge Manual B6.4.
Located in Cairns Region of Far North Queensland, Barr Creek Bridge is the final segment of the 5km iconic trail which spans from Palm Cove to Cairn CDB, providing views of the Coral Sea and sweeping along the intricate network of tropical beaches, natural creeks and waterways.
The Barr Creek Bridge will be an important link on the existing shared pathway trail for pedestrians and cyclists, connecting the two beach communities of Machans Beach and Holloways Beach. The bridge design is a low-profile concrete construction, approximately 150 meters long and 3.5 meters wide, with a 20m ramp on the Holloways Beach side and a 10m ramp on the Machans Beach side.
As it falls within the perimeters of Environmentally Significant Areas, the design and construction of the bridge was guided by strict codes and compliance, with special consideration to mitigate and minimise any potential environmental impacts.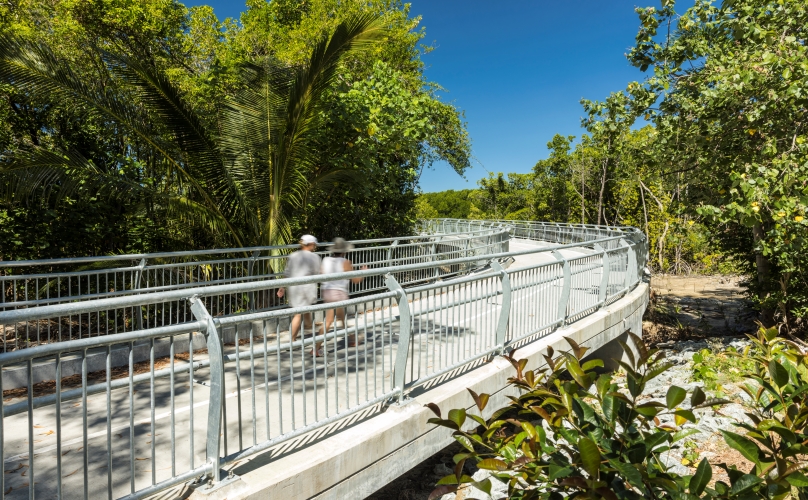 Why was Moddex product selected?
Notably, the Barr Creek Bridge required customisation of our Bridgerail™ Bridge Barrier System. In sync with the unique design features of wave shaped posts and customised lighting along the bridge, Moddex adapted to provide seamless integration with customised top rails to allow for light installation. As the bridge was not straight, Moddex also applied our engineering and design expertise to account for the large curve which proved challenging for design and production phases.
Moddex played an important role providing outstanding end-to-end service, ensuring the balustrade design for the project was going to meet compliance requirements under Australian Standards.
Requiring no maintenance and reducing opportunities for more corrosion, our no-weld modular design meant that the construction of the bridge was void of hot works and no toxic fumes. Another advantage of choosing our modular systems for this project is that all components are easily replaceable if damaged throughout the lifetime of the bridge.
Get in touch with our expert team, call us on 1800 663 339 (Australia) or 0800 663 339 (New Zealand) or download our product brochure.