While Moddex prides itself on flexible solutions, when it comes to compliance and safety, we leave no room for error. That includes the Victorian School Building Authority Standards (VSBA) for handrail and balustrade requirements.
Our 'Everything Fits' mantra includes matching the VSBA standard handrail requirements for 1800 mm and 1500 mm high balustrades across all projects.
Because we believe the entire industry should be upholding compliance with a VSBA Standard handrail, we've made it even more accessible with this how-to article.
A division of the Department of Education and Training, the VSBA is your benchmark to ensure the safe design and construction of new schools, including modernisation and upgrade of existing sites.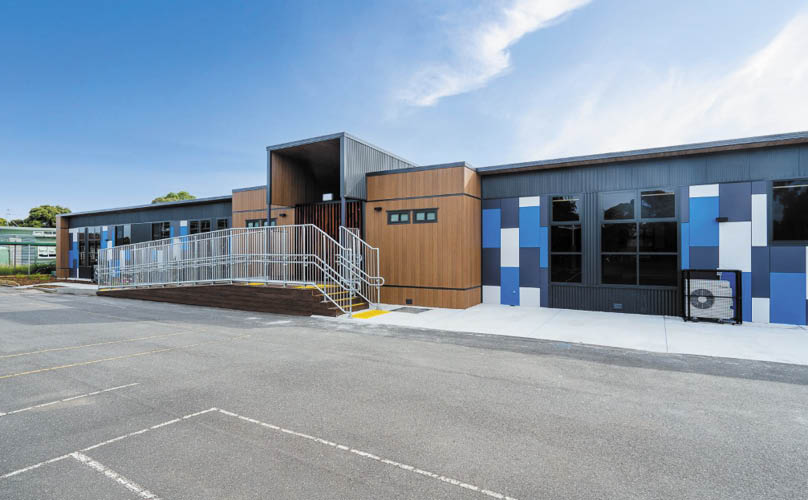 Is My School VSBA Regulated? What To Look For.
A school falls under VSBA Standards when Stamped with VSBA logo on the drawing and must comply with these standards. As a rule of thumb, Public schools must comply with VSBA standards. For architects, access consultants, and builders, it's important for them to collaborate to ensure these standards aren't overlooked.
What You Need To Know: How To Measure Up
When time is limited onsite, ensuring everything is compliant can be a headache, so we've removed it by extracting some of the key must haves and putting them here:
All schools built must comply to the NCC – National Construction Code and the Disability Discrimination Act (DDA)
Any school under VBSA must comply with the NCC – National Construction Code and the Disability Discrimination Act (DDA), as well as the additional standards enforced by VSBA. These are found in the VSBA Building Quality Standards Handbook.
When there is no clarification, or the VSBA Handbook does not give exact answers the gold standard is the NCC.
What You Need To Know: Placement
 Balustrades, also referred to as barriers, must be provided, in addition to handrails, on stairs and ramps.
All required internal and external balustrades/barriers lacking purchase points (handrails or baseboards) must have a minimum height of 1500 mm (1.5m) above the finished floor level (FFL). This is in excess of the requirements of the NCC to ensure the safety of all students, staff and visitors.
Where an internal or external balustrade/ barrier on a new or refurbished site has a handrail or base board it must be 1800 mm high above the FFL. In the future, the minimum balustrade height, with or without purchase points, will become 1800 mm.
All balustrades and barriers are to be nonscalable, with no horizontal rails or potential footholds, which could be used for climbing.
No furniture or joinery is to be attached to balustrades/barriers or placed within close proximity.
For balcony seating within an auditorium, balustrades/barriers should be consistent with NCC requirements.
Where bleachers are used in buildings or landscapes beside a one-meter or greater drop, hand railing must be installed at all stair interfaces/access ways.
You can access the full regulations here
What You Need To Know: Finishing Strong
Finishes & Materials:
Metal safety rails and barriers, bollards, and columns for external covered ways must be painted in high visibility luminance contrast colours. Handrails should be galvanised, not painted (5.4.3 painting and applied finishes – pg. 78)
Schools located near salt water should consistently use 316 stainless steel to limit corrosion (Stainless Steel – pg. 72)
Where a decking is required for egress from a SIP, trafficable surfaces and handrails must be non-combustible (Timber flooring and external decking pg. 72) 
What You Need To Know: Access All Areas
STAIRS & RAMPS (Clause 5.3.11 – pg. 63)
All stairs and ramps must comply with and be installed in accordance with Australian standard – AS 1428 Design for access and mobility and AS 1657.
If required, two handrails at different heights must be provided to suit comfortable use by both adults and children, in accordance with the conditions of use. Handrails should be fixed to adequate frames to support handrail function.
Areas that are under this 2.1m clearance should be barricaded off, and not be trafficable — for example, with the use of bollards.
PATHWAYS (pg. 47)
Path width should suit anticipated use. They should comply with the Disability Discrimination Act 1992 (Cth) (DDA) access requirements. Paths should be free of obstructions.
Where bleachers are used in buildings or landscapes beside a one meter or greater drop, hand railing must be installed at all stair interfaces/access ways.
PEDESTRIAN FOOTPATHS (Clause: 5.7.3– pg. 92)
All pedestrian footpaths must comply with and be installed in accordance with the Australian standard – AS 1428 Design for access and mobility.
Project consultants must select and satisfy that pedestrian footpaths with gradients greater than 1:14 must be provided with handrails.
TIMBER FLOORING AND EXTERNAL DECKING
Where paving, decking or another design feature creates a significant elevation change, an agreed Safety in Design measure must be put in place to mitigate the risk of falls. (Timber flooring and external decking pg. 72) 
The Moddex Difference: Where Everything Fits
Moddex is a well-established designer, manufacturer, installer, innovator, and integrator of handrails and balustrades in the Education market in Victoria. We've supplied and installed in over 300 schools in Victoria and offer the industry's lowest lifetime cost of ownership.
We're a VSBA recognised and backed supplier, with our modular pre-configured handrail and balustrade solution make our systems the perfect fit for any school falling under The Permanent Modular School Buildings Program.
Our teams design and build everything offsite in our purpose-built manufacturing facilities, assembling the product into kit-form. With an easy to follow installation guide, our modular barrier systems minimise time on site – no toxic fumes, site shutdowns, hot works permits or welding zones required.  
Saving up to half the time required when compared to a traditional handrail solution, we minimise disruptions to offer students faster access to high-quality learning environments. Working with countless architects, we've installed hundreds of kilometres of compliant handrail solutions.
In simple terms, when you use Moddex, it's guaranteed.
Our Projects
Moddex has completed the following projects to VSBA standards.
Warringa Park School, Werribee. Specified by Hede Architects and delivered by Devcoo.
Noble Park English Language School's recently completed modular upgrade – delivered by Sensum & Ausco Modular.
Upery High School Project, FDC Construction & K2LD Architects.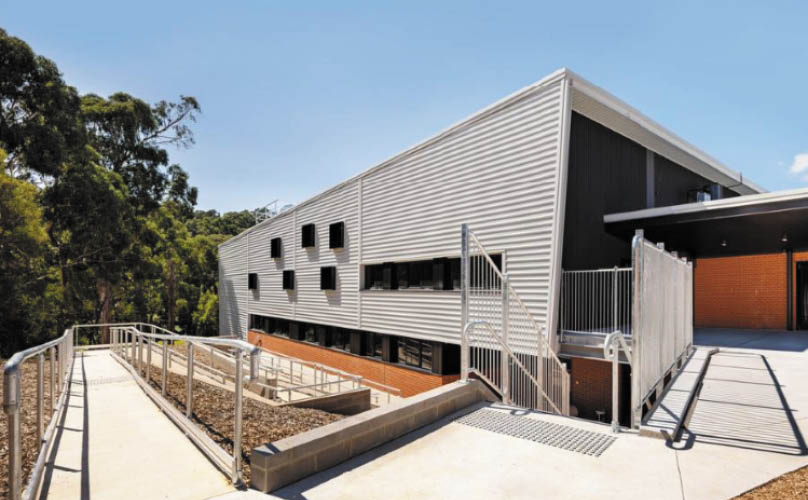 Committed To Victoria's Future
At Moddex, our expertise is your gain, we're on hand to assist with any issue you need to work through. We know our handrail standards back to front, and inside out, and are willing to help for the good of the community.
This includes the Victorian Government's commitment to remove all identified asbestos that may pose a risk from government schools by 2020. To achieve this, the VSBA firstly identified 1,712 government school sites throughout Victoria in 2015–16.
By the end of 2020, the VSBA will have demolished 101 school buildings and replaced them with modular buildings (The Permanent Modular Buildings Program) across Victoria. 
For direct assistance with product specification under the VSBA standard, email Rick at rick.parbery@moddex.com