Springfield is Lendlease's brand-new QLD subdivision and Cardno, the architect on the project, specified Moddex on all handrails and balustrades in Springfield Sports Complex. Since our beginnings, Moddex has been working with Cardno as a long-time provider of the highest-quality barrier systems. With one of the fastest-growing populations in QLD comes the need for sporting facilities to accommodate. We were only too happy to supply Springfield with the perfect handrails and balustrades to fit. Working alongside project contractor, Eureka Landscapes, we designed, manufactured and delivered Moddex modular systems across the whole complex. Multiple industry-compliant handrails, ramps and balustrades were delivered seamlessly well-within the client's deadline of the October opening.
You can rest-assured we'll find the best fit-for-purpose Moddex range made from the most suitable raw material for every specific area and to your specifications. On our Springfield Sporting Complex, we used Assistrail for disabled-access areas and Flexalyte Kerbrail to accommodate ramp variances thanks to the unique adjustable elbow joint. Being 100% no-weld, installation was quick and seamless. We even customised stickered-panels to meet the architect's specific requirements (pictured here as part of the fully-adjustable Bikesafe range specified by Cardno.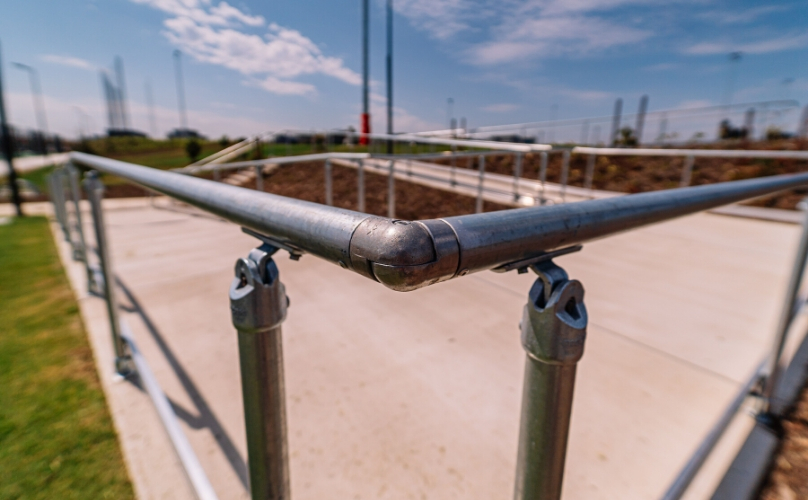 Moddex is the only handrail and balustrade company to provide a complete end-to-end barrier system. From site measuring, producing CAD drawings and selecting the best fit-for-purpose materials and modular components to manufacturing, delivering and installing exactly as specified, we can do it all in half the time it takes any other providers in the market. We prioritise your project requirements, reducing our lead times as much as possible to ensure you meet your completion date. Our project management teams work swiftly and professionally to meet your barrier solution requirements. We work flexibly around you to make sure our product and service fit seamlessly to changing timelines.
Our original Springfield brief was for a system delivery in an extremely narrow timeframe. When the project was pushed out, we worked flexibly to ensure we had all materials and the team ready to jump on at a moment's notice. Whenever an area became ready, we got straight to work. Variations invariably came up on the Springfield Sports Complex Project, and our project management team worked quickly and efficiently with our client to measure, deliver and install seamless modular barrier systems that weren't originally part of the project scope.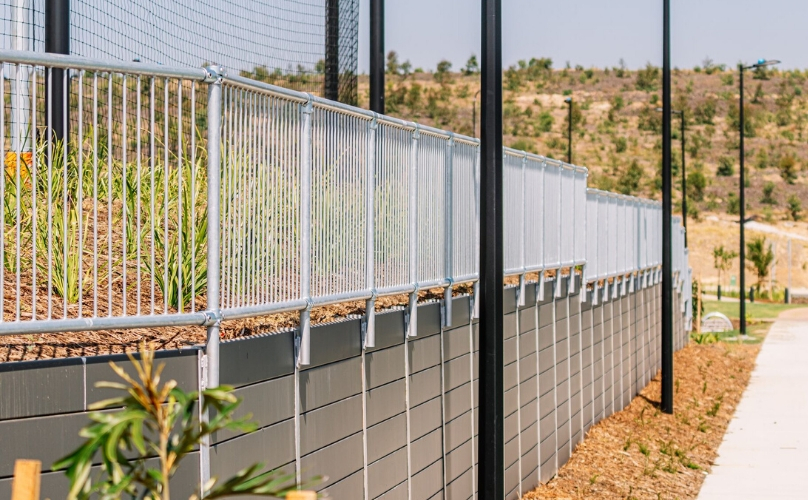 The beauty about Moddex is our guaranteed end-to-end dependability, availability, quick-thinking and flexibility onsite and off. To mount a balustrade along the top of long sections of concrete retaining wall, our engineering experts swiftly custom-engineered an adjustable solution that mounted perfectly and compliantly to the face of the retaining wall, completely meeting compliance standards. Plus, with warehouses fully-stocked as standard, we were able to supply a large amount of the customised modular product in a matter of just a few hours, building the solution quickly onsite with absolutely no delay to our client.
Like many other clients, Eureka Landscaping was extremely happy with their Moddex barrier system and service.
Call our expert teams today on 1800 663 339 to find out how we can help do the same for you.