A New Era for Education in Victorian Schools
The state of Victoria is in the midst of a significant education-construction boom. Since 2016, more than $10.9 billion worth of investment has already been delegated for building new schools, upgrading and modernising existing educational infrastructure across Victoria. Spearheaded by the Victorian Government and managed by the Victorian School Building Authority (VSBA), the sweeping reforms are fortifying Victoria's leading status as the Education State.
As a part of these statewide reforms, Miners Rest Primary School was a recipient of funding for significant expansion and upgrades to the existing premises which was completed late 2021. Located on the north-western rural-urban fringe of Ballarat, the school received up to $21.6 million of funding for land, planning and construction.
To date, Moddex has supplied and installed our systems to over 300 schools across the state of Victoria. And we continue to uphold our legacy as a leader in this field of expertise, with the recognition by the VSBA as a trusted and compliant supplier.
Moddex was engaged in 2021 by project contractor H.Troon Pty Ltd to supply and install our Assistrail® Disability Handrails and 1500mm Conectabal® Commercial Balustrades to access paths, stairways and ramps of Miners Rest Primary School.
Moddex was selected because our systems are easy to specify, quick to install and guaranteed to meet compliance for Class 9B Buildings used for Primary Schools.
Architecturally designed by Tectura Architects (Melbourne), Miners Rest Primary has been transformed and now doubles as an active community hub. Featuring 10 new classrooms, a new entry and administration, arts room, music room, food technology facilities, kitchen, veggie garden and landscaped open play areas. Community members also have after-hours access to the new competition-grade gymnasium and football oval.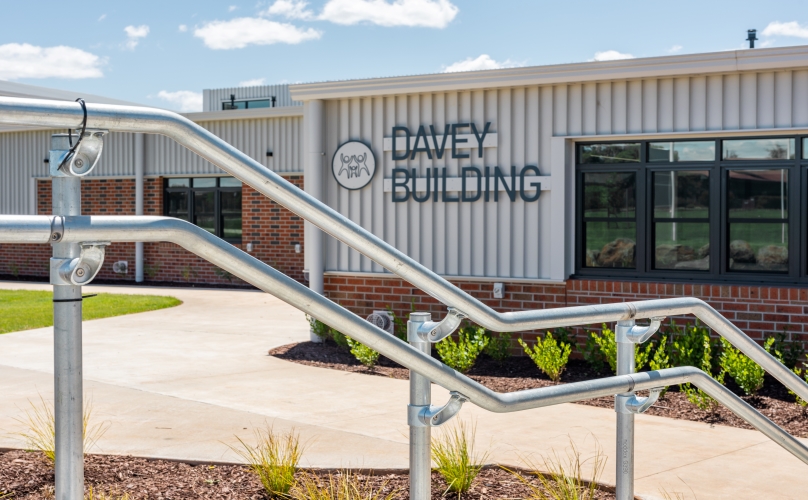 Moddex Makes Architectural Specification Easier
Specified to the Standards set by the Victorian School Building Authority (VSBA) for primary schools, and using our downloadable design files for exact specification, the design and construction of Miners Rest Primary School project was a complete success.
Our downloadable files have been developed to integrate seamlessly into most BIM and CAD software applications. These files are designed to use within the in-built railing tool during the design process, no matter how complex or big the job. Because our pre-engineered modular barrier systems are manufactured for guaranteed compliance, specification has never been more practical or customisable with Moddex.
The modular nature of Moddex systems make them easily integrated to meet short timeframes and staged construction processes.
With Moddex, you can be certain that safety and compliance are intrinsically built into our systems. So when you specify with Moddex, Everything Fits™.