Project Overview
Bike enthusiasts of every level in the Northland of North Island, New Zealand, have a new outdoor venue to explore on two wheels.

Pohe Island Bike Park in Whangarei is a state-of-the-art recreational bike park with a world-class design that will make any bike rider envious. From beginners to intermediates and advanced bike riders, there is something for everyone at Pohe Island Bike Park.

Featuring a world-class purpose-designed pump track, 800m circuit track, beginner skills track and amenities building for shelter, rest and rejuvenation, the Pohe Island Bike Park is a new regional attraction that officially opened for public use in 2022.

Built and designed by international pump track specialists Velosolutions, the pump track features two tracks: A standard Velosolutions Pump Track and the first oversized track built in NZ, with 2.5m wide, 1.5m high berms. This bike park is bound to attract international attention!
Bikesafe® Bikeway Barriers – Supplied by Moddex
For this project, Moddex was engaged by United Civil Construction Ltd for the supply and installation of mandatory Bikesafe® Bikeway Barriers at multiple hazard points throughout the bike park, offering rider safety and fall protection.

In particular, Bikesafe® Bikeway Barrier configuration BS40 was selected. As a standard full barrier with smooth deflection rail, this configuration offered more than sufficient safety and compliance with AU/NZ standards for public recreation projects.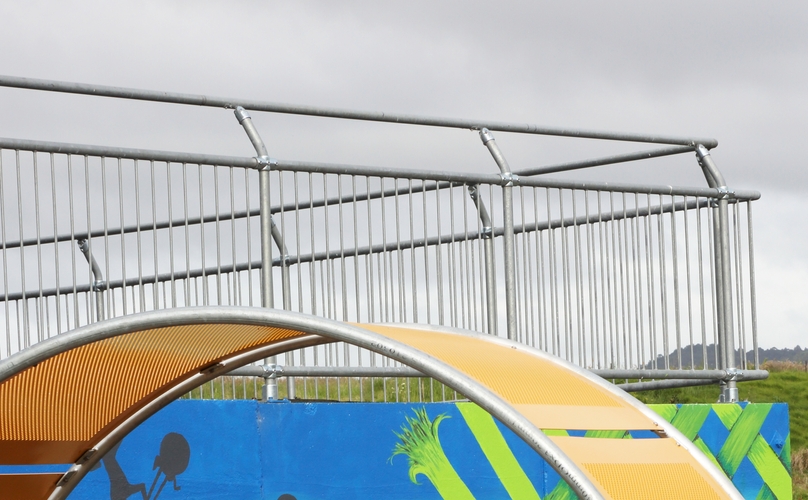 A Public Recreation Project Well-Planned
A testament to smart planning, the park also links to the shared paths network, creating multiple cycling routes around the city. Also, it accommodates every bike riding level with opportunities to excel and build a passion for the sport.
Bike Northland development officer Arwen Page describes the new park: "It [is] like a mini road environment, a coaching area, teaching traffic skills and will run adult courses. Many people are getting on bikes again and aren't overly confident, so this will familiarise them with their bikes and teach them skills. Then the idea is, it will be progressive so people can move their way up through the tracks."
Overcoming Project Challenges
Moddex worked with Designer WSP to overcome some minor barrier challenges onsite. There were concerns about children being able to fall through certain gaps in some areas, so Moddex came up with a solution to extend the barrier.
With our Bikesafe® Bikeway Barriers being a modular system, this was an easy adaption for the Moddex
team.

Overall, Moddex is proud to showcase this project and provide a high-speed example of Bikesafe® Bikeway Barriers being implemented at a world-class outdoor recreation project – one that is sure to draw enthusiasts from all corners and leave a positive impact on the lives of future generations.
Ready to find out how Moddex can help you?
Talk to our expert team by calling or emailing us with your enquiry:
· Australia: 1800 663 339 or sales@moddex.com.au
· New Zealand: 0800 663 339 or sales@moddex.co.nz
We look forward to hearing from you.