Project Background
The Victorian Government has invested heavily in infrastructure projects, with a record $13.4 billion going into the elimination of level crossings across metropolitan Melbourne.
As part of the Cranbourne Line Upgrade, the level crossing at Greens Road in Dandenong South is being removed with dual rail bridges constructed overhead. The completion of this major project will make road and rail travel faster, safer and more reliable for Melbourne's south east.
This project will also deliver a new rail connection for the Port Rail Shuttle Network, allowing freight to be transported by train from Dandenong South through to the Port of Melbourne. The area is also a significant hub for jobs and manufacturing in Victoria.
Second stage of Moddex's project on the Cranbourne Line
Working with McConnell Dowell, our long-time construction partner, this is the second stage of a project which began with the successful completion of Bridge Barriers and Handrails for a duplicate rail bridge over Abbotts Road.
The Greens Rd project is double the size of Abbotts Rds, involving the design and installation of 1.5km of bridge rails and 1km of handrails by Moddex. As with the Abbotts Rd bridge, we used our proprietary Bridgerail Bridge Barriers system and our robust Tuffrail Industrial Handrails.
Key benefits for the Design Team
Known for our highly collaborative approach, we worked closely with McConnell Dowell on the site details and design intent to provide precise material specifications for our production teams.
Led by Moddex's Major Projects Consultant Kaine Jamieson, our team started pre-assembly on site a month in advance, meaning we could achieve double the workload in the same shift times as the Abbotts Rd Bridge.
"If we didn't have the capability to do that, we wouldn't have been able to meet the deadlines," Kaine said. "We can save our clients considerable time, money and worry because of our manufacturing capacity."
Having our own modern manufacturing facility with pre-engineered, pre-designed and pre-assembled systems helps us achieve our vision of "more value, in less time, every time" for our clients.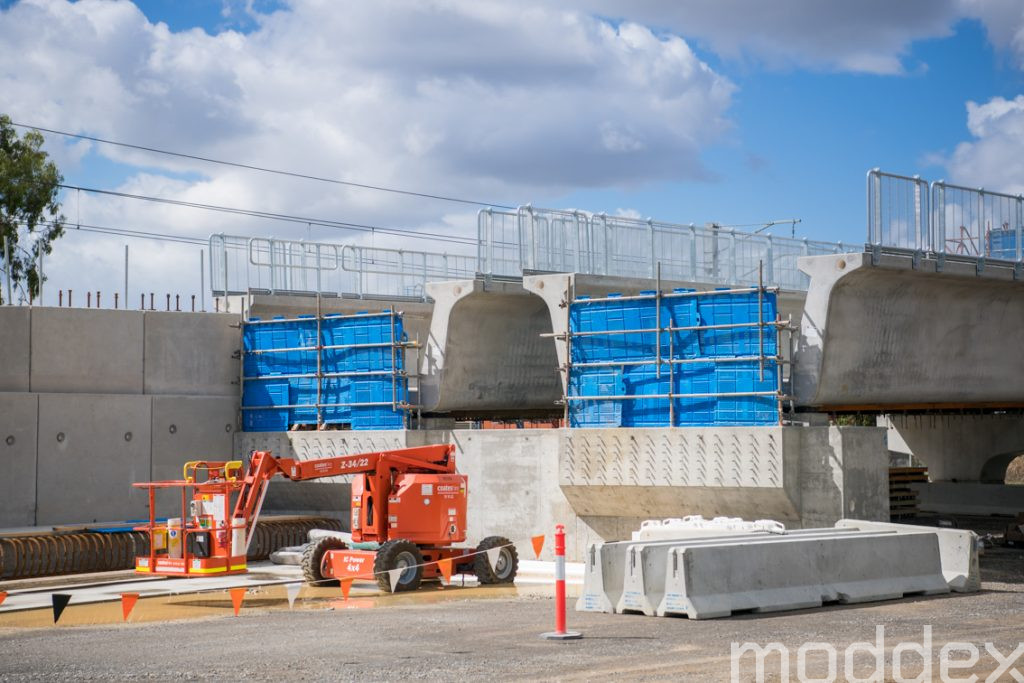 Key benefits for the Construction Team
Using the knowledge Moddex gained from the first stage of the project, we were able to ramp up our assembly capacity during the day so that our installation teams were ready to take over for the night shift.
"Our flexibility means we can meet greater installation demands like Greens Rd, where we had overnight crews working from 10pm till 6am dressing the U-beams and bolting the rails into place," Kaine said. "Working 6 day weeks, split between day and night shifts, we successfully installed 1.5km of bridge rails."
The delivery of this project scope would not be possible without our proprietary Bridgerail™ Bridge Barriers system. It has revolutionised the way Moddex approaches the installation phase on major infrastructure projects.
The Bridgerail™ is a prefabricated modular system that's designed to easily connect, saving teams significant time during installation as there's no need for welding on site.
An incredibly tough and durable product with a 100-year design life, it also complies with AS5100.2 Clause 12.5 and the NZTA Bridge Manual Compliant to Clause B6.4.
A trusted construction partner on major projects across Australia
As a long-term, trusted partner to Australia's construction industry, Moddex is proud to be involved in projects like Greens Rd that improve the day-to-day lives of road and transport users and make public spaces safer and more accessible.
We continue to lead the way with our innovative designs, state-of-the-art manufacturing and fast installation times, making us the ideal partner for major infrastructure projects around the country.
Want to learn more?
Call the Moddex team today to discover how we can help with your next project and make sure Everything Fits™.