Westar Isuzu Truck Centre, located in Campbellfield, Victoria, faced the need for a complete workshop expansion to accommodate its growing operations. To undertake this ambitious project, Westar Isuzu engaged Levanta, a reputable workshop fit-out specialist known for its turn-key solutions.
This project would require more than just Levanta's expertise; it also demanded robust and reliable handrail solutions to ensure safety and compliance. This case study delves into how Moddex stepped in to support Levanta in this transformative workshop redevelopment.
Project Overview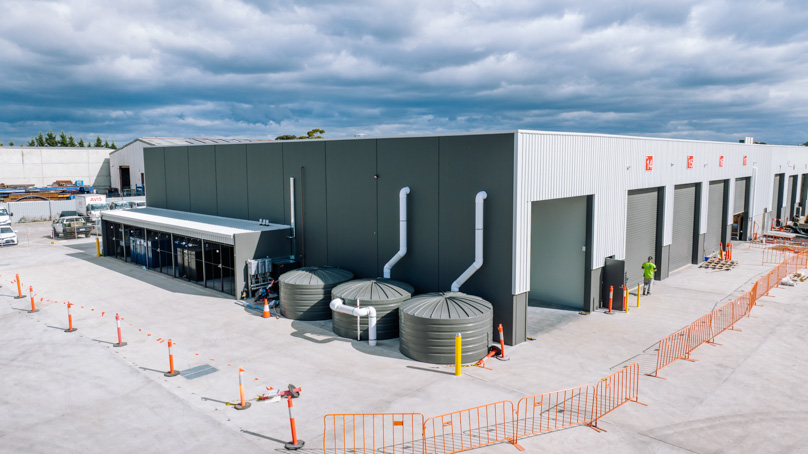 Westar Isuzu Truck Centre's expansion project was an extensive undertaking. The goal was to create a state-of-the-art workshop fit-out, equipped with new service pits and modern oil and air systems. Levanta, with its extensive experience in workshop fit-outs, took on the responsibility to ensure seamless project delivery, adhering to strict timelines and ensuring minimal disruption to the ongoing workshop operations.
Phased Approach for Business Continuity
To maintain business operations at the Campbellfield site, the workshop fit-out redevelopment was split into two phases. This strategic decision allowed Westar Isuzu to continue its productivity, serving its customers without interruption
Choosing Moddex for Handrail Solutions
As the workshop redevelopment progressed, Levanta faced the critical need for reliable handrail solutions to ensure safety and compliance with workplace regulations. Having previously worked with Moddex and experienced the quality and ease of their handrail systems, Levanta selected Moddex without hesitation.
Seamless Handrail Integration
Moddex's Tuffrail® and Assistrail® handrail systems were the ideal fit for the workshop fit-out redevelopment. Known for their simple and efficient assembly process, these handrail products seamlessly integrated into the workshop's expanded structure, aligning perfectly with Levanta's commitment to delivering high-quality solutions.
A Strong Partnership
Throughout the project, Levanta and Moddex forged a strong partnership, working collaboratively to meet Westar Isuzu's specific requirements. Moddex's team actively contributed to the project, marking up the workshop, providing detailed shop drawings, and ensuring the smooth supply of handrail products without any delays or issues.
Delighting the Customer
The success of the workshop fit-out redevelopment was evident in the customer feedback received. Adrian Harding praised both Levanta and Moddex for their outstanding contribution to the project. He specifically highlighted Moddex's handrail system, praising the immaculate finish of the installed air and oil lines, which further enhanced the overall aesthetics of the workshop.
The workshop fit-out redevelopment at Westar Isuzu Truck Centre stands as a testament to the power of collaboration and seamless integration of expertise. Levanta, with its turn-key workshop fit-out package, ensured that the project progressed smoothly in two phases, keeping Westar Isuzu's operations running efficiently. Moddex's reliable handrail solutions played a pivotal role in enhancing workplace safety and compliance, garnering praise for their ease of use and impeccable finish. Together, Levanta and Moddex provided a comprehensive solution that surpassed customer expectations, delivering a state-of-the-art workshop that meets the ever-evolving needs of Westar Isuzu Truck Centre.