Project Background:
Inland Rail is a major freight rail infrastructure project which will deliver over 1700km of freight rail line that will connect Melbourne and Brisbane via regional Victoria, New South Wales and Queensland. The Inland Rail project is a long-term strategic investment by the Australian Government, to fundamentally boost the nation's economic future for the next century and beyond.
It is infrastructure that will significantly enhance national freight and supply chain capabilities, connecting existing freight routes through rail, roads and ports in many regional and rural areas of the country. The Inland Rail network is expected to generate more than 21,000 jobs at the peak of construction and boost Australia's GDP by more than $18 billion during construction and the first 50 years of operation.
Moddex is currently engaged in a contract by Trans4m Rail, a joint venture between John Holland and SEE Civil, to spearhead the delivery of over 14,500 metres of industrial handrail to Phase 1 of Inland Rail's Narrabri to North Star section in northwest, NSW. One of 13 Inland Rail sections, this part of the project is comprised of 184 kilometres of upgrades to existing track and approximately 2km of new rail, passing through primary agricultural land including grain fields and floodplains.
Why was Moddex selected?
Having previously working on the Parkes to Narromine section of Inland Rail from 2018 to 2020, and as a previous supplier for John Holland, Moddex had proved their capacity as a trusted supplier.
Kicking off this project during the Covid-19 pandemic, the project team faced uncertainty around timely materials delivery and supply chain reliability. Moddex provided peace-of-mind through guaranteed supply. Because we have such robust inventory systems with steady, continuous procurement lines for materials, we are always stocked and ready to deliver on large scale infrastructure projects.
Have there been any current obstacles that Moddex team had to overcome so far?
Interestingly, the construction of this section of the project is also shaped by the annual grain seasons of northwest New South Wales. The existing train line that is due for upgrade runs through vast lengths of agricultural land, and so project work is limited to a seven-month window because of the seasonal harvest.
Moddex addressed a technical issue of misalignment of precast holes on some walkways, by developing a streamlined drilling solution on site that ensured drilling was completed without voiding the warranty of the structure. With Covid-19 restrictions, Moddex also overcame the challenges associated with labour shortages caused by state-wide lockdowns.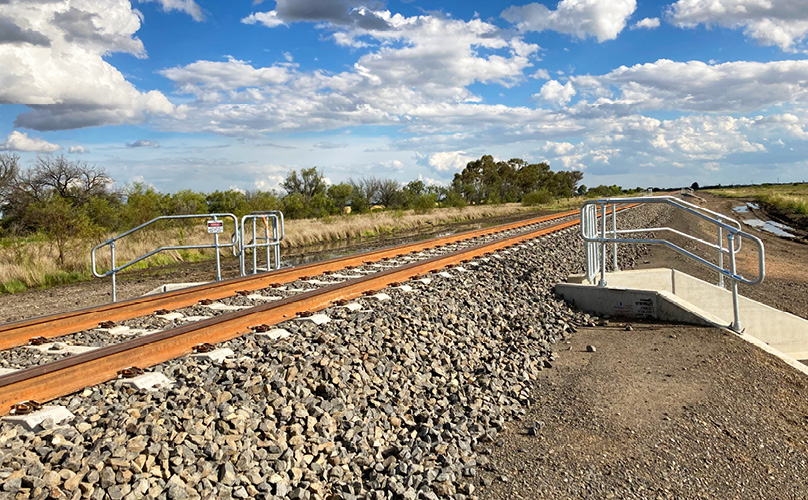 What products and configurations used on this site?
Trans4m Rail used Moddex Tuffrail® Industrial Handrails in delivering the Narrabri to North Star Phase 1 project. The products were pre-engineered and designed to meet the client's safety, compliance and functional needs.
Available in a range of configurations, our Tuffrail configurations TR30 and TR20 were installed on the wing walls and Moddex TR25 on top of the walkways. The works covered a span of approximately 4.5 kilometres, including installation on culverts and bridges.
Fully compliant under the provisions of AS 1657.2018 and NZS 1657.1992, Moddex's Tuffrail® range is engineered to withstand extreme conditions. The modular design of our systems means that they are fully modifiable.
Requiring less maintenance and reducing opportunities for more corrosion, our no-weld modular systems equates to no hot works permits, no toxic fumes and no site shutdown. Unlike the traditional welded handrails, our proprietary modular designs and streamlined construction methods, eliminate design, onsite fabrication and engineering costs. All of these factors combined equate to the lowest total cost of ownership in the industry.
Get in touch with our expert team, call us on 1800 663 339 (Australia) or 0800 663 339 (New Zealand) or download our product brochure.
For many years, Moddex has been Australia and New Zealand's leading supplier of low-risk, compliant modular barriers, earning a strong reputation across the industry. Our project portfolio showcases a vast range of applications on some of Australasia's most notable large scale infrastructure projects. Working in unison with some of the most reputable contractors in the industry to deliver impeccable results at every turn.
At Moddex, Everything Fits™.