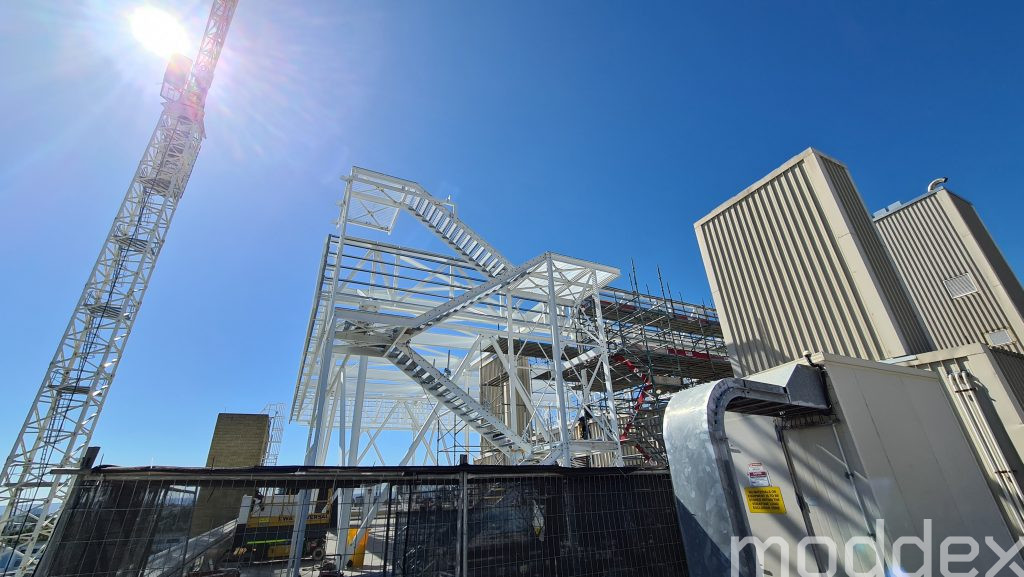 Project Background:
The Royal Perth Hospital (RPH) is set to have a $9.5 million new helipad to replace the existing landing pad and significantly improve the transportation of critically injured patients across Western Australia. The new infrastructure will be raised to allow a 360-degree approach for pilots and remove the narrow flight path required to access the current helipad. With up to 300 helicopter landings per year, the upgrade will allow for larger rescue helicopters to land and take off, complying with latest civil aviation safety standards. The new helipad is scheduled to be opened in 2022.
---
Why was Moddex selected?
Firm Construction was selected as the head contractor to deliver the new helicopter landing pad. Moddex was specified by SPH Architects + Interiors to supply and install their proprietary Conectabal® Commercial Balustrades and Assistrail® Disability Handrail Systems. Since January, installation has been well underway on the helipad external stair flights, landings and fire isolated stairs and is expected to be completed by late March 2021.
Moddex was able to supply handrails and balustrades that are specifically suited for the helicopter landing pad. Due to the helipad's structural design, Moddex needed to modify the handrail to ensure the flight path and landing area are clear of fixed obstructions. Installing the levelled handrails at great heights proved to be a daunting task ahead and nothing short of a challenge! At Moddex, the health and safety of our employees, contractors and visitors are of the utmost importance, therefore extra safety measures were taken to prevent falls. Working alongside Ital Steel, over 190 metres of galvanised steel were assembled on the entire staircase, resulting in a seamless delivery and installation.
---
Products/configurations used on project:
Commercial Balustrade Conectabal CB30
Disability Handrail Assistrail AR70
Disability Handrail Assistrail AR150
---
Key benefits for the Design Team
Moddex worked closely alongside Ital Steel's structural team to have hole locations and pre-drilling arranged prior to erecting the balustrades. Collaborating with the team helped eliminate the need for costly, disruptive hot work permits and drilling on the elevated structure.
Our no-weld modular solution reduced installation lead time considerably – saving our client valuable time and costly project delays. The Moddex team proactively engaged and co-operated with riggers on-site to work within the loading and installation time. Clear communication of scheduled rigging activities ensured the installation process ran smoothly.
The Moddex balustrade and handrails were attractive to project managers as the modular build ensured tremendous on-site flexibility and fast installation. Moddex are delighted to have been selected as a contractor to the Royal Perth Hospital Helipad Project and being part of making a difference to the lives of Australians.
---
Find out More
With Moddex, everything fits. If you're looking for the right solution for handrails and balustrades on your project, talk to our expert team by calling or emailing us with your enquiry.
· Australia: 1800 663 339 or sales@moddex.com.au
· New Zealand: 0800 663 339 or sales@moddex.co.nz
We look forward to hearing from you.