Project Overview
Descending the steep scenic river bank of the Canning River in South Perth, Redmond Reserve is a local hidden gem of ecological, cultural and recreational significance to the locals who treasure this tranquil corner of the earth. So much so that one of the local residents made a generous AUD$30,000 funding contribution towards the project, wanting to see the infrastructure of this incredible reserve rejuvenated and upgraded for future generations.
The Redmond Reserve Project at Salter Point is a recently completed 135 metre state-of-the-art stair redevelopment that significantly enhances the area's natural beauty and environmental experience. Officially completed and opened in August 2022, the $600,000 redevelopment project is part of the City of South Perth's Clontarf-Waterford-Salter Point Masterplan to revitalise, secure and protect the natural, cultural and public assets of the region.
The new stairway substantially improves public safety, structural compliance and accessibility to the riverside nature, as well as optimising the scenic route with the three additional viewing platforms and a late-stage safety gate at the lower platform for direct riverbank access.
Raised above the vegetation than the previous ageing timber stair, the new stairway is wider, less steep, and creates more opportunity for outdoor activity, socialisation and immersion in nature.
Contracted by Living Iron, Moddex fabricated and supplied our proprietary modular balustrade and disability-assist handrail systems for the entirety of the new scenic stairway and viewing platforms for Redmond Reserve.
What was unique about this project?
This project's most unique and impressive aspect was the inclusion of ecologically-sensitive LED lighting throughout the entire stairway and platform assembly.
Low-lumen LED lighting got fed through the handrailing's tubular modules, providing an incredible aesthetic to the finished product – providing a vandal-resistant, hazard-resistant solution to otherwise more exposed methodologies.
Based on CAD documents, Moddex fabricated and supplied our modular barrier systems with precisely marked points for the electrical contractor to drill holes for the LED lighting.
Certain custom designs were explicitly developed for the project by Moddex, to allow for "hidden" electrical wiring throughout the modular system.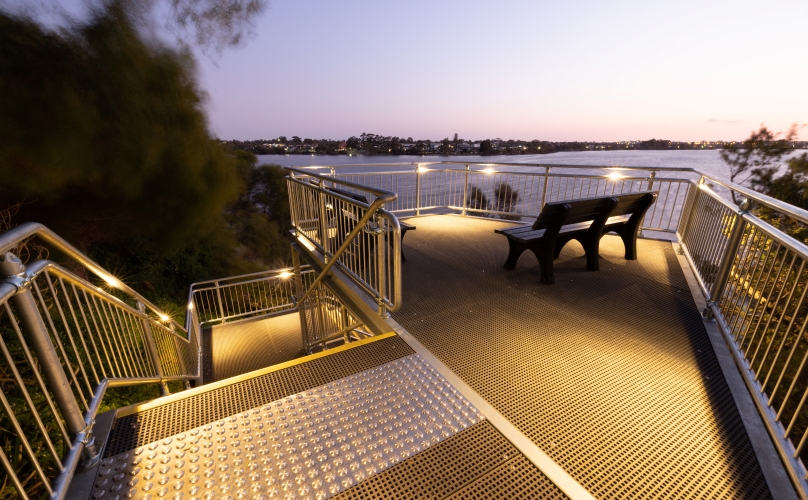 Conservation of Culture and the Environment – A Bush Forever Project
Redmond Reserve is a dedicated bushland protection and management site under the determination of the Bush Forever Policy by the Government of Western Australia for the Perth Metropolitan Region.
Guided by the Bush Forever framework, Redmond Reserve was designed with broader land use planning and decision-making, securing long-term protection of biodiversity, and associated environmental values. Regenerative works included revegetation of the bushland using local endemic trees and plants to help prevent erosion and provide a food source for wildlife, including cockatoos and other native birds.
Why was Moddex selected?
Seeking a modular solution for easier installation on the steep site and looking for a partner who was willing to liaise to achieve the conceptual design, Moddex was the first choice for the contractor.
Overall, Moddex's modular handrail and balustrade systems made this project much easier for the contractor by alleviating the costly burden and risks associated with crane assistance and onsite welding. Being a steep terrain, Moddex stairway systems made installation much easier and faster.
In addition, our long-term partnership with repeat metal fabricator and contractor Living Iron played a significant role in the success of this project.
Moddex pre-configured systems lower project risk and improve compliance and cost efficiencies.
The innovative nature of our Moddex modular systems means that our products may be modified to cater to any unique requirements – removing delays and risks, optimising efficiency and affirming certainty at every step.
During the upgrade, Moddex overcame design changes quickly and easily. We ensured that all compliance and specifications of the project were met, every potential hurdle was identified, and we found solutions in the design modelling process through our easily adapted modular systems.
Ready to find out how Moddex can help you?
Talk to our expert team by calling or emailing us with your enquiry:
· Australia: 1800 663 339 or sales@moddex.com.au
· New Zealand: 0800 663 339 or sales@moddex.co.nz
We look forward to hearing from you.