The Moddex In-Line Joiner is an ingenious and time-saving no-weld modular solution to perennial barrier project issues. It fits perfectly in all Moddex handrail and balustrade system designs and literally halves the installation time of welded systems.

Installation is simple; all you need is a battery drill and rivet gun, so no need for running power leads or bringing in heavy welding equipment. Made from galvanised steel and marine grade aluminium, it comes in a range of swivel, straight and 90-degree forms and fully complies with industry standard AS/NZS 1428 governing public access areas and ramps for use by people with disabilities.
The Swivel In-line Joiner provides internal expansion from 0-90 degrees. Together with Straight In-line and 90-degree joiners, we can overcome any on-site challenge and simplify any complex handrail or balustrade installation.
The In-Line Joiner guarantees your project's structural integrity by eliminating weak rust-prone gaps traditionally found in welded solutions. It contributes to the ultimate strength and longevity of your barrier system by connecting seamlessly with components including the ergonomic connector and the adjustable top rail.
With the Moddex In-Line Joiner, your client benefits from low lifetime ownership cost, and your business benefits from a great reputation.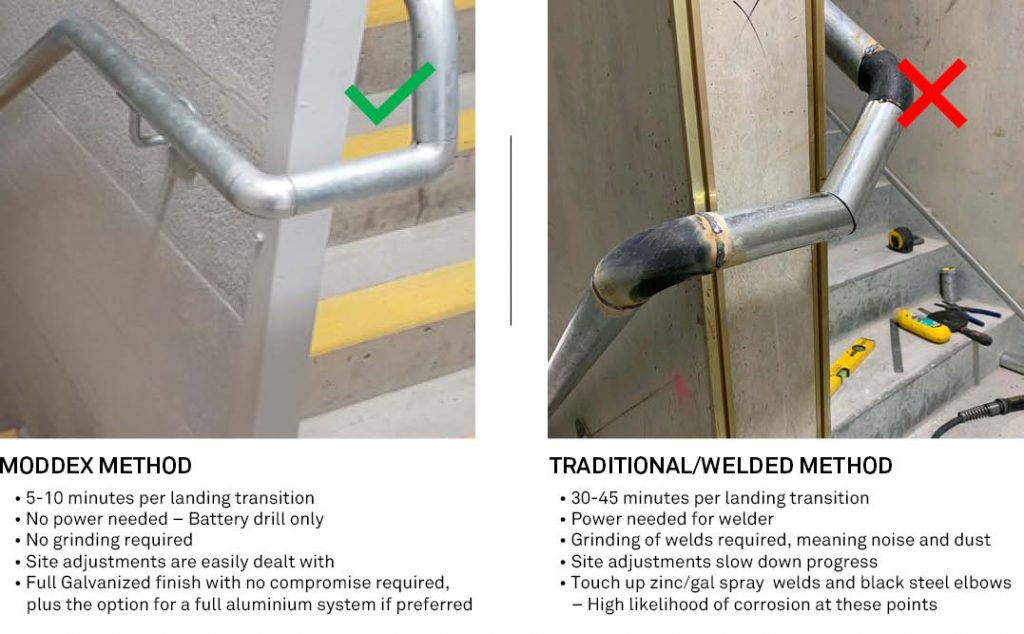 Want to learn more about Moddex in-line joiners?

Get in touch with our expert team, call us on 1800 663 339 (Australia) or 0800 663 339 (New Zealand) or download our product brochure. We're here to help, whether you're after technical support or you need advice on integrated systems.