Project Overview
The Chester Hill Bridge Upgrade in Western Sydney was officially completed in August 2023.

The project comprised the demolition and the construction of two new bridges at Hector and Wolumba Streets, Chester Hill. One of the most critical aspects of this project was that the two bridges run over Sydney Water mains, so compliance was a high priority like all infrastructure projects.
The new bridge structures feature widened traffic lanes, protected shared bike and pedestrian paths on either side of the bridges, and straight structures to provide a clear and unobstructed vision for motorists, pedestrians and cyclists.

The bridge upgrades were jointly funded by Cumberland City Council and The City of Canterbury Bankstown, with more than $4 million in funding provided by the Federal Government.

Specified for the project and engaged by Abergeldie Complex Infrastructure, Moddex's modular barriers and balustrades were used to ascertain compliance and safety for this important public infrastructure for Western Sydney communities.
Now completed, this long-awaited infrastructure upgrade will play a critical role in alleviating congestion and reducing travel time, particularly given that over 12,000 vehicles rely on the Hector Street bridge daily.
Bikeway Barriers for a Safer Shared Pathway
Bikesafe® Bikeway Barriers (BS45 – Top Rail, Handrail & Balustrade Infill Barriers) were specified to provide a compliant barrier between the road and the shared pedestrian paths on either side of both bridges.

Featuring a smooth and continuous top rail for injury prevention, Bikesafe® Barriers protect pedestrians and cyclists travelling at speed on shared pathways and motorists travelling on the bridge road.
Moddex Bikeway Barriers are designed to align with Austroads Guide to Road Design Part 6A and 6B and the NZTA Bridge Manual – providing the ultimate protection for cyclists travelling at speed.
Bridge Barriers with Guaranteed Compliance
The proprietary Bridgerail™ bridge barrier system by Moddex makes it easy to specify and install balustrades on bridges while ensuring compliance. This product is ideal for public access areas within road, rail, or other elevated bridge structures.

For this particular project, Conectabal® Commercial Balustrades (CB10) were specified for compliance with AS5100.2 Clause 12.5.

Due to our extensive engineering experience, Moddex's pre-engineered designs offer unparalleled peace of mind to both Road and Rail Authorities and Consulting Engineers and Civil Contractors.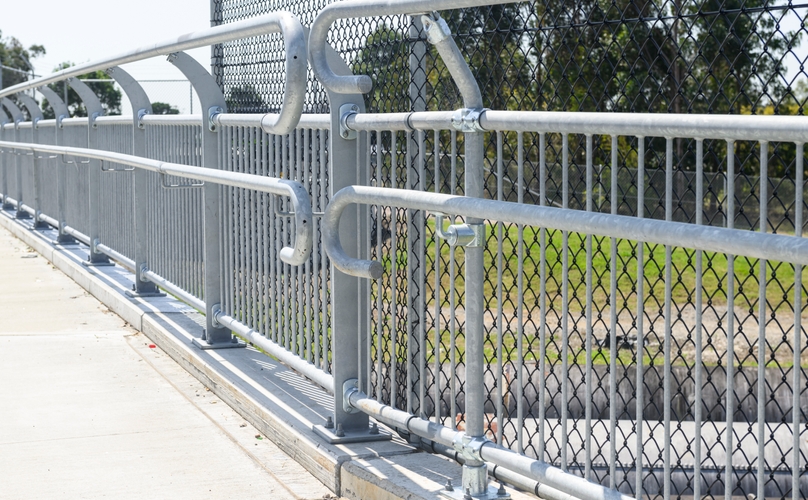 Bridgerail™ offers a convenient solution for quick installation with its prefabricated kit-form system that eliminates the need for on-site welding, making it easy to assemble modular components.

Additionally, Bridgerail™ stands out for its durability, boasting a design life of 100 years. Compared to traditional prefabricated systems, Bridgerail™ offers a significant advantage by being approximately 30% faster to install, ensuring both efficiency and long-lasting performance.
Commercial Balustrades for Roadside Compliance
Conectabal® Commercial Balustrades (CB10) were specified for several lengths of the bridge pathways where fit-for-purpose compliance was required for level application above one metre, mitigating or eliminating risk to workers, customers and visitors from falls from height in public areas.

Moddex commercial and industrial balustrades offer a high safety load rating and will comply with every application standard, with nine configurations available in the Conectabal family.
Ready to find out how Moddex can help you?
With Moddex, Everything Fits™.
Talk to our expert team by calling or emailing us with your enquiry:
· Australia: 1800 663 339 or sales@moddex.com.au
· New Zealand: 0800 663 339 or sales@moddex.co.nz
We look forward to hearing from you.